Value Coupons
THE MARKETPLACE OF THE MIND
VALUE COUPONS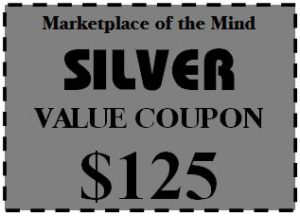 only $99.97
Click Here to Purchase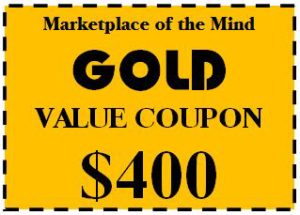 only $299.97
Click Here to Purchase
HERE'S HOW THEY WORK:
Each coupon is good for the amount on the coupon.  You pay the sale price, but you get merchandise valued at the amount on the coupon.  Obviously, you can get considerable savings.  There are three types of coupons available: $60 Bronze Value Coupon which sells for $49.97, $125 Bronze Value Coupon which sells for $99.97, and $400 Gold Value Coupon which sells for $299.97.
Once you purchase a coupon, you will get a unique coupon code for your personal use.  Use it like a debit card.  Each time you order from me, use the code.  Refill the coupon by purchasing additional coupons and you can mix and match the coupons, if you wish.
I set up each coupon manually, as well as refilling it, so please give me up to 72 hours to do that, although in most cases it will be done within one day, if not a few hours.
Your coupon code will look something like this:  VCSMIT0123.  The first two characters will be VC (for Value Coupon), the next four characters will be the first four letters of your last name (such as SMIT for Smith), and then the final four characters will be the final four numbers of the order ID number in which you ordered your initial value coupon.
Please note that there are some items that are exempt from use by the Value Coupon (such as the SvenPad line and the Marketplace of the Mind subscriptions), but a large majority of items that I sell are not exempt.  In fact, if there are any magic items that you need, meaning items that I don't catalog on my site, let me know.  I may be able to get and sell them to you.  Just about anything that wholesaler Murphy's Magic Supplies carries, I can get.
It's that simple.  Click on one of the coupon links above to buy one and get started.  If you have any questions about this program, don't hesitate to ask.