SvenPad Products
SVENPAD™ PRODUCTS
– 2016 MENTALISM PRODUCT OF THE YEAR
– Marketplace of the Mind
(Please note that some of the SvenPad products are available through MARKETPLACE OF THE MIND and the others, those that are marked with
an asterisk, are available direct from Brett Barry.  )
PERFECTION MEETS PAPER: THE SVENPAD
Genuine SvenPads® are a worldwide phenomenon. You've seen them on AMERICA'S GOT TALENT, BRITAIN'S GOT TALENT, and on THE JIMMY KIMMEL SHOW.
The SvenPads® have been embraced as the professional's #1 forcing device, offering unlimited performance ideas limited ONLY by your imagination. They look like innocent pads from your local store, but these exquisitely made props make the impossible possible. Effortlessly.
Create invisible forces, dual realities, confabulations, standing ovation predictions, and so much more.
Get ready as the SvenPads® are a full mind reading show in the palm of your hands.
But the brilliance of the SvenPads® is that everything happens in THEIR hands, under THEIR control.
All SvenPads® looks like ordinary memo pads from your favorite office supply store, but working Mentalists & Magicians realize what a powerful tool the SvenPads® represent. The SvenPads® are offered in a tempting lineup of INNOCENT & innovative styles and sizes to fit any need – from small Post-it notes to artist's pads for stage.
Take a close look at any SvenPad® and you will see… nothing.
DELIGHT IN THE DETAILS. SVENPAD®
When you invest in a SvenPad®, you become part of our community of thousands of passionate & talented users in every corner of the globe. The performers using SvenPads® are a virtual "who's who" of mystery artists, many of whom generously contribute mind blowing ideas on our private user forum.
The original SvenPads® remain far ahead of inferior "copycat products." Once you hold a genuine SvenPad® in your hands, you will never want to leave our pad.
THERE IS ONLY ONE ORIGINAL SVENPAD®
SvenPads® lead the pack with the most unique and advanced designs (The KoD glued spine & spiral binding), new innovations (our Triple Banks), insanely high quality craftsmanship, and caring customer service & lifetime support.
Any language, any idea, any THING is now possible with your genuine SvenPad®
WHY TAKE A CHANCE & RUIN A PERFORMANCE?
There is no substitute for GENUINE SvenPads® which are cut to an insanely tight 1/45″ (long & short) tolerances. Hold it up close. Once you handle one, you will instantly understand WHY performers are so passionate about them. Genuine SvenPads® fly under all radar.
YOUR PERFECT FORCE HAS NEVER BEEN SIMPLER, MORE DECEPTIVE OR HARDER HITTING!
Casually show all of the pages of the pad to be different (words, drawings, celebrities, destinations, foods, phone numbers, etc). Next openly hand your SvenPad® to a spectator to secretly peek at just one item. The performer instantly knows exactly what she is thinking.
These ordinary looking memo pads come as a blank canvas for your best creativity – ready to plug into your act on day ONE.
TO KNOW YOUR SVENPAD® IS TO LOVE YOUR SVENPAD®
The SvenPads® are a PRO UTILITY ARSENAL. Most performers are already familiar with a multitude of ways that they could use this powerful tool.  All SvenPad® orders will also receive a PDF with16 pages of instructions, ideas, plus a copy of the late Bob Cassidy's "Scary Movie" routine that has been re-imagined for combining with the world famous SvenPad®.
The SvenPad® packs small in your pocket or purse, yet play HUGE either one-on-one or for stage or TV. The multitude of effects possible with the SvenPad® are endless.
FOCUS ON YOUR PRESENTATION, NOT YOUR PROPS
Each genuine SvenPad® is individually HAND TESTED…and if it does not meet specs, it is rejected and never shipped. BY the time you get your pads, each one has gone through multiple checks for correct operation.
Each SvenPad® is 100% guaranteed to work perfectly under normal use. In the unlikely event that there is ever an issue with a pad, we will exchange it FREE of charge (including FREE shipping) anywhere in the world, no questions asked. The SvenPads® remain the world's best forcing tool because it is unique as you are.
MADE BY HAND IN THE USA: 100% GURANTEED FOR LIFE
With genuine SvenPads® no expense has been spared to bring you the BEST Svengali style products in the world. No short cuts are ever taken.
We invented the world's most precision Svengali pads using laser cut 1/45″ pages; our own paper stock which we print the lines on to look like store bought;  Unique designs that fly under all radar; and a user base of the world's most famous pros. The SvenPads were voted as the 2015 Magic Trick Of The year at the Magic Cafe.
Each SvenPad® is HAND CHECKED TWICE before it ever lands in your hands. Expect perfection. We won't settle for less and neither should you.
ACCEPT NO IMITATIONS: SVENPADS® ARE UNSURPASSED
SvenPads® are available in every corner or the globe – online, and at fine brick and mortar shops where you can take a pad for a test drive. We LOVE to support our dealer network. Why buy cheaply made copies when you own GENUINE SvenPads?®
"One of the most versatile and well made utility devices I have ever used.  Highly recommended.  I can attest that these pads are the best I've ever seen.  To those who claim they can make themselves, OF COURSE you can.  But you'd have a hard time achieving the perfection Brett's SvenPads offer.  And you certainly wouldn't have the benefit of the performance material (mine) that comes with them.  These have my highest recommendation."
– Bob Cassidy
"The gimmicking of the SvenPads is perfect and completely undetectable.  In short, you are able to force ANYTHING, instantly and with the pad in the spectator's hands.  As I am sure you know, I much prefer classic methods and secrets for my routines.  They are proven over time, cannot go wrong and are totally baffling if performed correctly.  I cannot think of another prop that fits that bill as perfectly and is so versatile.  It works flawlessly, fits into your pocket and can create as big an effect as your imagination is capable of developing."
– Richard Osterlind
"The SvenPad is a marvel.  As complicated and sublime as anything you own.  Every mentalist should applaud its availability, but leave it to just a few to perform.  Seriously, don't leave to a show without it.  It is as individual as you."
– Marc Salem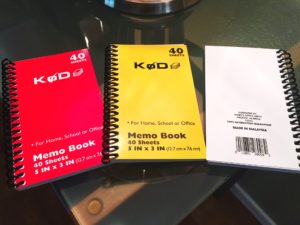 SvenPad™ KoD (Red) $25

SvenPad™ KoD (Yellow) $25