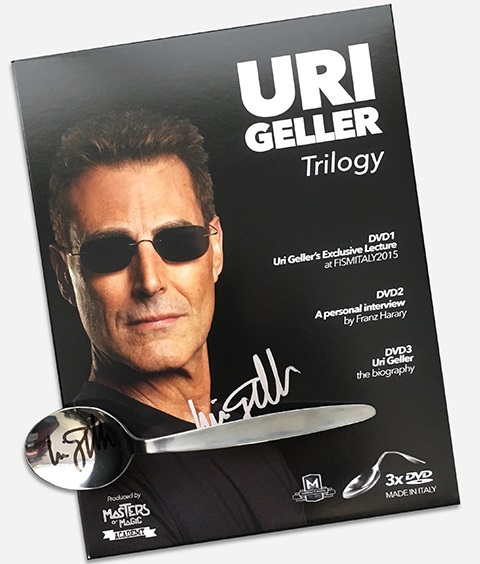 URI GELLER TRILOGY (DELUXE EDITION)
$125

The Blurb
NOTE: This is not the earlier released DELUXE LIMITED EDITION which also contained the additional special bonus of the signed bent spoon.  This edition still contains the three DVDs and a signed DVD case by Uri Geller.  It is also less expensive.
Discover the unique, uncensored presentations of the world's most well-known, investigated and celebrated mentalist of our generation.The Uri Geller Trilogy is an extraordinary LIMITED EDITION signed DVD collection.?For the FIRST TIME ever, you will get answers and revelations about his most personal and closely held thoughts.Five hours of insight, advice and incredible stories by one of the most fascinating geniuses of the last one hundred years. Uri even gives advice on what to do if things go wrong…The Uri Geller Trilogy is an unbelievable journey! Filled with mystery and controversy to get a deeper insight into Uri Geller's unique mind-bending abilities.
"If… he genuinely does what he claims to by the methods he claims to use, then he is the only person in the world who can do it. If on the other hand he is a magician or a trickster or a con-man, he is also phenomenal – the best there has ever been. So, whichever way you want to look at him, we must respect him as one or the other." – David Berglas (Great Britain's leading magical entertainer, President of the Magic Circle and holder of numerous international honors – England)
"You know, I like Uri Geller. He is a good guy. I think he made many things (happen) with his abilities. I think some of the things he shows are illusion. But I cannot claim for sure, that this applies to everything." – David Copperfield (from a German TV interview)
"Uri Geller is a superb showman, in fact that is what 'Gellerism' is all about. There is no gimmicked apparatus involved, just pure showmanship that proves successful under nearly all conditions."- Ben Harris (magician and author of Gellerism Revealed – Australia)
"The man is a natural magician. He does everything with great care, meticulous misdirection and flawless instinct. The nails are real, the keys are really borrowed, the envelopes are actually sealed, there are no stooges, there are no secret radio devices and there are no props from the magic catalogues. He is a consummate performer, and had he arrived in true colors as a conjurer, he'd have found no more ardent supporter than this magician."- James Randi (in an open letter to Abracadabra Magazine)
"Uri Geller might be one of the great magicians of our century, good for him… You know I've often thought that aside from government workers magicians are the worst secret keepers on the planet. Well good for Uri Geller, he hasn't told anything yet. I have great respect for him."- Eugene Burger
"More than a man… Geller is a legend."- Colin Cloud
"Uri Geller is the best magician on earth because he's the only one that's managed to keep a secret."- Luke Jermay
"Geller has shown us that the limits of our understanding are not the limits of all there is to understand." and "Geller has demonstrated that the power of belief is greater than the power of skepticism."- Lee Earle
"I had a most amazing experience at a private party in London a few weeks ago. Uri Geller asked if I had ever seen him bend a spoon and I said only on television. He picked up a large spoon form the table and asked me to join him at the bar. He placed the spoon down and began to stroke it. A small bend appeared. He held it up for me to see and then placed it down again. I looked at it closely and the bend was more pronounced. I was astonished since this happened without any misdirection. He asked if I would like the spoon as a souvenir and I said 'sure'. He took out a felt tipped pen and signed it. As I walked back to the room I was really taken by surprise. The spoon was now bent at a 75-degree angle. When I tried to bend the spoon, it was too strong for me to move in my bare hands. The bend was not at the weak spot near the spoon but a few inches up from that spot. Uri is fifty-four and looks thirty-five. He is clearly a man apart…"- Barrie Richardson (Professor of management and Dean of The Frost School of Business at Centenary College, USA)
"The world needs more of your amazing talents!… I need them."- Michael Jackson
**All proceeds from these sales will be donated to children's charity
The "Jheff's Judgment" column below is a brief summary of a longer, more detailed version. For the longer and more in-depth version, and to get news and information about other mentalism products, please visit the Marketplace of the Mind Forum or subscribe to the free newsletter.