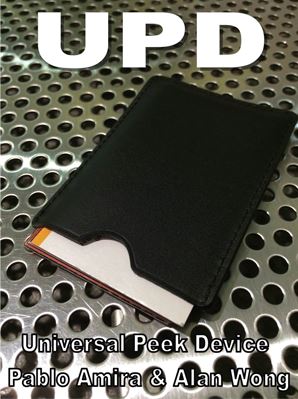 UPD
$39.95
This is a non-featured item. For more information, please visit the Marketplace of the Mind Forum, a subscription-based site that contains more detailed reviews, news, and other information about mentalism and mentalism products.

The Blurb
Pablo Amira and Alan Wong have joined forces to bring to the magic and mentalism community the "UPD", a new product that will create amazing and direct results for your performances.
The UPD (Universal Peek Device) will transform your normal wallet into an amazing tool for casual and professional performances. This flat and small leather business card holder fits in any credit card compartment, keeps your cards in good condition and allows you to create a plethora of different effects.
Nothing to break, no refills, any business cards, any pen/pencil/marker.
Comes with the 100% high quality leather holder UPD and online video lesson from Pablo in which you will learn the core method, routines and several other ideas that can give you new options for your repertoire.
If you want to read minds without any worries and be always ready to create a deep impression, you need the UPD.
"Simplicity in mentalism is the key and the "Universal Peek Device" is a powerful tool disguised under a normal everyday object. Take it with you and be ready to read people's minds!"
– Luca Volpe
"Pablo Amira's UPD is an inventive, but perfectly justified evolution of a classic idea. It creates a logical and workable method for perfect and pure mind reading effects. I applaud the thinking here and the highest recommendation I can give is that I'll be using it in my professional performances."
– Dee Christopher
"I love it. As is often the case, simplicity wins once again here. This is one of the most direct peeks of this kind I have seen. Pablo's teaching of how to use this device is also top notch. Highly recommended."
– Fraser Parker
The "Jheff's Judgment" column below is a brief summary of a longer, more detailed version. For the longer and more in-depth version, and to get news and information about other mentalism products, please visit the Marketplace of the Mind Forum or subscribe to the free newsletter.