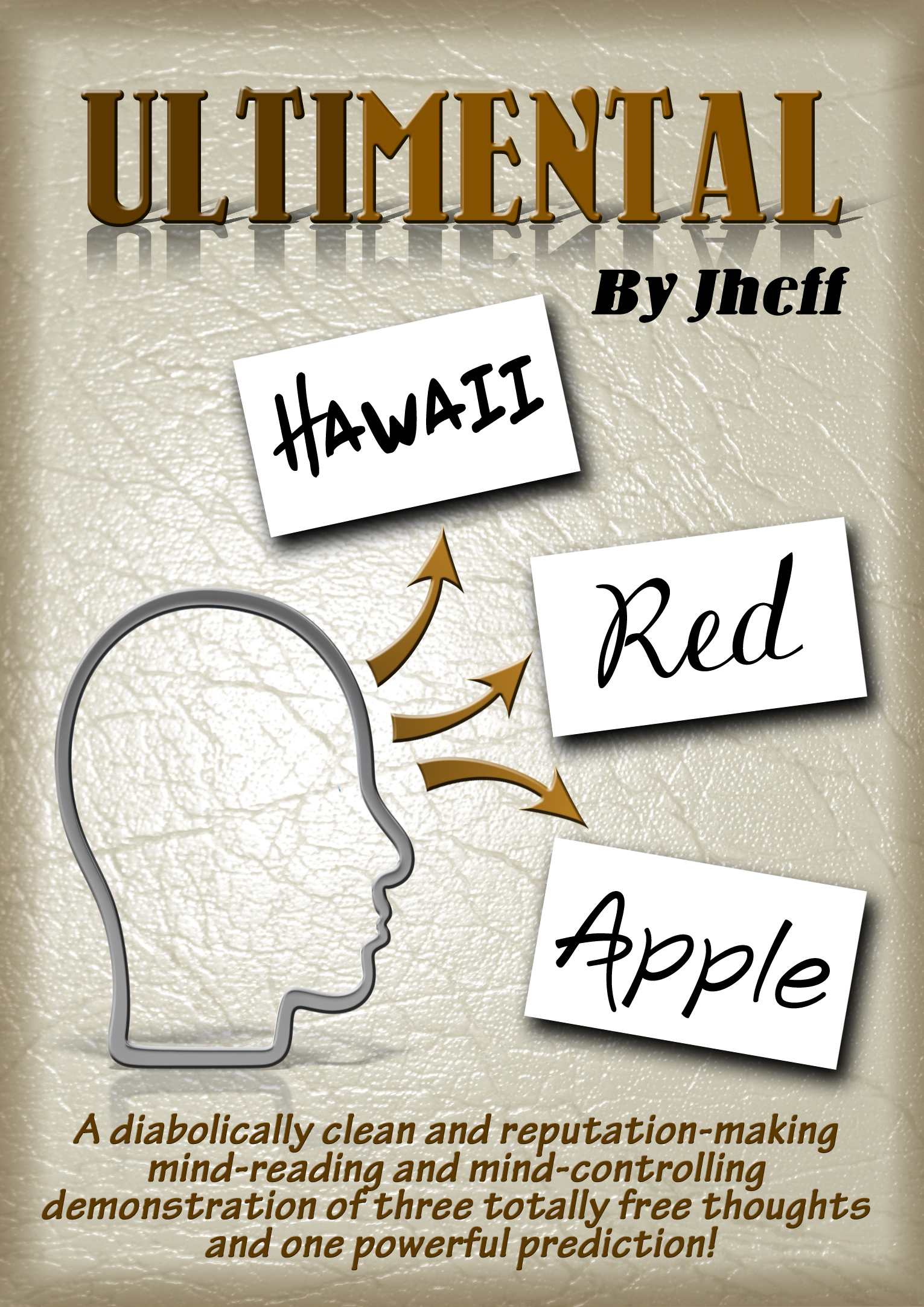 Featured Recommended Product
ULTIMENTAL DVD
$34.97

The Blurb
"I like this effect a lot.  It uses tried and true methods in a combination that adds a layer of deception that, I think, will deeply bother people."
David Regal, Genii Magazine
From the pages of JHEFFSMIND comes this powerful mentalism classic –
Imagine this:   A participant thinks of ANY three words while the performer writes something on the back of his business card.  The card is then sealed in a coin envelope and held in plain view.   The three words are now named and written on the backs of three other business cards, one on each card.  With the cards held face down, the participant randomly chooses one.
The card is turned over, the randomly selected word is revealed, and the envelope is opened.  The participant removes the card and reads it.  Written on the card is a special message for the participant that contains the randomly selected thought-of word!  The business card and the envelope can be left in the participant's hands to be kept as a souvenir!
IT'S THE ULTIMATE POCKET MENTAL MIRACLE!
No switches!  No carbons!  No impressions! No forcing!
No extra gimmicks!  No difficult sleights!
Any words can be used!  Any language can be used!
Uses only coin envelopes, any business cards, and a pen!
Also included are two more mental miracles using business cards that can be done impromptu:
MENTAL BUSINESS – A participant writes down five objects on five different cards.  The performer is able to dramatically reveal which of the five the participant is concentrating on.  Though this is an old plot that uses an old method, you'll be pleasantly surprised when you find out that it's not any of the usual old methods that you'd expect!
POCKET OF THE MIND – Four names are written down on four business cards that are placed into the performer's empty jacket pocket.  The participant is instructed to visualize all four people and then imagine three of these persons vanishing one at a time.  After each one vanishes, the performer removes one card from the pocket and destroys it.  The participant names the one remaining person, the performer takes the last card out of the pocket, and reveals that it has the name of that person written on it.
Includes the original PDF that includes more ideas and variations not included on the DVD.
"Jheff has produced another awesome book.  This one brings the classic magician's choice into the 21st century.  It's the closest thing to real mentalism."
Bob Cassidy