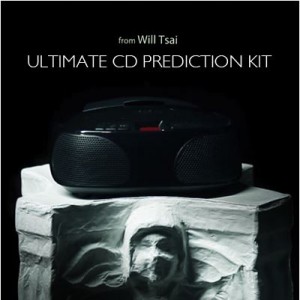 THE ULTIMATE CD PREDICTION DVD KIT
$45
This is a non-featured item. For more information, please visit the Marketplace of the Mind Forum, a subscription-based site that contains more detailed reviews, news, and other information about mentalism and mentalism products.

The Blurb
The Ultimate CD Prediction Kit comes with all the parts you
need to put together your own Ultimate CD Prediction
illusion – a self-working mini portable illusion that allows
you to reveal a prediction with a pre-recorded CD. Predict
the News healines, lottery numbers, final score for Super
Bowl, and more! This is the perfect tool to gain publicity.
Your spectator keeps the disk.
Your spectator puts the CD in the player.
Your spectator hits play.
The prediction is revealed for everyone to hear.
The design is self-contained and self-working, so you can
focus 100% on the presentation.
If you want the perfect finalle for mentalism or magic show,
stop looking. THIS IS IT.
* All custom made parts included
* Supply your own portable CD player
"I cannot think of a stronger way to finish a show than
this."
– Craig Petty
"I gotta say, I REALLY like this!"
– David Penn
The "Jheff's Judgment" column below is a brief summary of a longer, more detailed version. For the longer and more in-depth version, and to get news and information about other mentalism products, please visit the Marketplace of the Mind Forum or subscribe to the free newsletter.