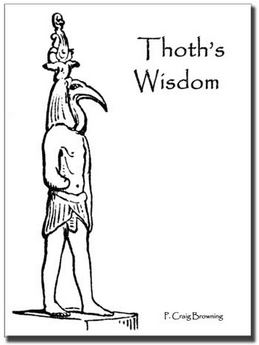 The following item is not sold or distributed by the Marketplace of the Mind. It is available only through the link below ("Link to Site").
THOTH'S WISDOM
$189

The Blurb
A complete Q&A act for psychic entertainers
SUMMARY: Thoth's Wisdom is a self-contained Q&A presentation that can run anywhere from 20 minutes to a full two-hour show. A hard-bound 78-page book, Thoth's Wisdom is limited to 144 signed and numbered copies, and available only through The Pro Shop.
Here's what Craig says about Thoth's Wisdom in his introduction to the book:
"Thoth's Wisdom allows you to accomplish a combination of Psychic Sight and a Pseudo-Q&A demonstration in which nothing is written down, yet you gain huge kudos from the audience because of your accuracy and your ability to discern unspoken thoughts and to connect with each guest in a complete and unquestionable manner. You become a kind of John Edward-styled psychic, but without the dead people.
It is important that you understand that Thoth's Wisdom is NOT a "trick" but rather a system; a system that relies on a collection of cheats, set-ups and just plain chutzpah to pull off.  In other words, it's not for the faint of heart; it is a very involved process but once you have figured out your own approach to it, you will find that it is exceptionally empowering."
Empowering? Yes, indeed. Here are a few points to consider:
•  Absolutely No Billets to Juggle
•  No Priming of the Participants
•  No Stooging or Confederates
•  No Progressive Anagrams
•  No Memory Work
•  No Pre-Show Required
•  No Impression Systems Needed
In the interest of full disclosure, it should be said that while there is no need for any pre-show or impression devices, Craig nonetheless describes in detail how the use of these concepts can be used to make your presentation of Thoth's Wisdom even more powerful.
In addition to drawing on ideas from a host of professionals (including Pascal de Clermont, Bob Cassidy, Lee Earle, Kenton Knepper, Richard Webster, Ron Martin and Enrique Enriquez), Thoth's Wisdom covers every aspect of Craig's Q&A philosophy and methodology including the rarely-discussed concepts of production value, theme setting and improved dynamics.
Another feature of Thoth's Wisdom is the inclusion of several samples of readings that come directly from Craig's own performances of the act. As any working professional knows, the readings delivered during a Q&A presentation will either make or break the audience's perception of your abilities. The samples included in this book illustrate perfectly how to make the maximum impact on your audiences through the thoughtful application of Craig's approach.
"The structure of Craig's approach offers a no-writing Q and A to the working professional who is neither afraid nor offended by the use of a classic Oracle to produce seemingly mystical results. Make no mistake, this is not a rehash of stock lines and cold readings based on the Tarot. Craig delivers practical and powerful tools for data acquisition, guest analysis, method-based revelations, all arranged in a true theatrical structure."
– Michael Weber
Remember — there are only 144 copies of Thoth's Wisdom in this limited edition, so as the saying goes… "First come, first serve".
The "Jheff's Judgment" column below is a brief summary of a longer, more detailed version. For the longer and more in-depth version, and to get news and information about other mentalism products, please visit the Marketplace of the Mind Forum or subscribe to the free newsletter.