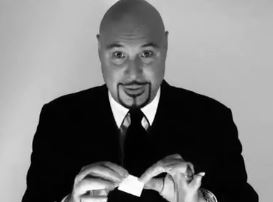 The following item is not sold or distributed by the Marketplace of the Mind. It is available only through the link below ("Link to Site").
SWITCHBLADE
$99

The Blurb
A Billet Read with NO Switches, NO Tearing, NO Glimpses, NO Peeks
Billet reading is the ability to secretly know what's been written on a piece of paper or card. Billet reading is often as close to real mind reading as any mentialistic trick can get.
To be REALLY effective, you must know when to look at the writing. It's the true secret of the elusive perfect billet reading technique.
Using a switch or CT requires a stealthy view – and peeks and glimpses may not give enough time to read a full question.
Keeping the information contained to a small area of the card seems suspect. Many times tearing the billet is out of place.
Mentalists need a method of secretly reading the ENTIRE content of a billet – A FULL QUESTION – written ALL OVER THE CARD, without tearing or switching the paper.
And it has to be UNDETECTABLE and easy to perform.
SWITCHBLADE is all of that and more.
SWITCHBLADE is a technique rather than a special gimmick. It's specific fold and handling revolves around a clever idea that has NEVER BEFORE BEEN APPLIED to mentalism!
You will get:
•  A 15 MINUTE VIDEO showing ALL the secret moves, folding and handlings.
•  A 2ND 15 MINUTE VIDEO discussing billets and their use and applications.
•  An HOUR LONG AUDIO with details about SWITCHBLADE and he routines included.
•  7 COMPLETE ROUTINES utilizing SWITCHBLADE on an HOUR long audio.
•  A PDF QUICK START GUIDE for use with the audio.
•  A LIVE FOLLOW_UP CALL discussing new ideas and applications for SWITCHBLADE.
BONUS
A SPECIAL CLASSIC SECRET Report.
This report will show you how to use SWITCHBLADE for one mentalism's greatest effects. This effect is already a classic of mentalism, and SWITCHBLADE can be used (in a different way than designed) to perform it even better than ever before. It's different, it allows you to do several more effects, and it's a FREE Bonus!
All of the above – as instant downloads – MP4, MP3, PDF.
P.S.
Switchblade is NOT a Hull Card. It's unlike ANYTHING before. The moves are completely original to mentalism, never having been applied to billets before.