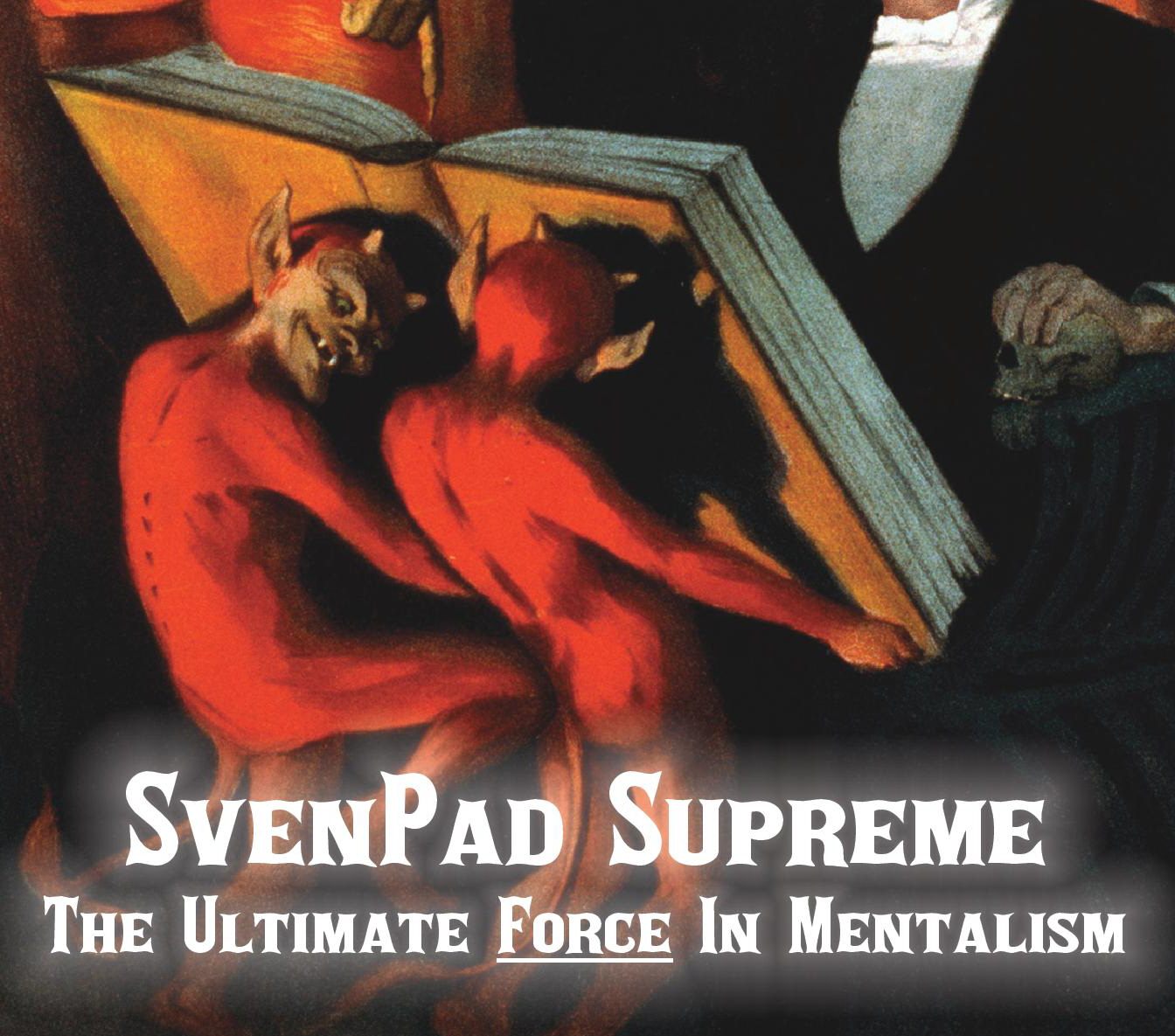 The following item is not sold or distributed by the Marketplace of the Mind. It is available only through the link below ("Link to Site").
Featured Recommended Product
SVENPAD SUPREME
$50

The Blurb
The SvenPad Supreme represents a working Mentalist's dream.
Welcome to the highest quality Svengali pad EVER created – professionally cut with laser precision!
The SvenPad looks like an ordinary memo pad from your favorite office supply store – but working Mentalists & Magicians realize what a powerful tool the new SvenPad represents.
Casually show all of the 50 pages to be different (words, drawings, celebrities, destinations, foods, phone numbers, etc).
Then openly hand the SvenPad to a spectator to secretly peek at just one item. The performer instantly knows exactly what she is thinking.
These ordinary looking "OfficeMax" style memo pads come as a blank canvas of 50 pages for your own ideas – ready to plug into your creativity or cherished routine.
Have a spectator choose a random dream destination and have yet another select a famous celebrity, while a 3rd might pick a kind of food. Create the ultimate confabulation with minimal effort and maximal effect – the uses for this devilish utility device are limited only by your imagination.
Multiple SvenPads will allow you to create a multitude of possibilities with a variety of spectators!
The SvenPad is easy to carry yet plays big either one-on-one or for stage. The multitude of effects possible with the SvenPad are endless.
Few forces could be more direct, with minimal audience management and the fairest of procedures utilizing an organic object that everyone has on their desk – a small notepad.
All the short (bottom) edges of the SvenPad Supreme are precision trimmed, alternately long and short all the way through.
When the pad is held in one hand and slowly opened or flipped from the front to back by the other hand, each page is seen to be genuinely different.
No need to riffle the pages – take your time.
No need to over prove the fair selection – since spectators are already familiar with these kinds of small memo pads.
This innocent little SvenPad is destined to become one of your favorite mind reading utility props!
FINALLY! The highest quality and most deceptive Svengali pads ever
LASER CUT PAGES – visually imperceptible long & short edges when looking at the closed pad
AVAILABLE in either pocket sized (5.5 x 4.25′) or stage sized (8.5 x 5.5?)
PROFESSIONALLY tape bound with glossy card stock front and back
50 BLANK PAGES – create your own forces and routines!
OFFICEMAX style bar-code label on back side
INCLUDES an enhanced version of Bob Cassidy's classic "Scary Movie" routine + suggestions and tips
UNLIMITED uses for the working professional!
THE NEW standard for this type of forcing prop
"One of the most versatile and well made utility devices I have ever used.  Highly recommended."
– Bob Cassidy