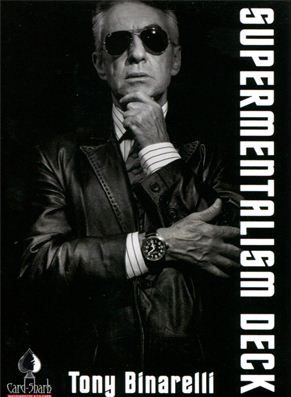 SUPER MENTALISM DECK
$35
This is a non-featured item. For more information, please visit the Marketplace of the Mind Forum, a subscription-based site that contains more detailed reviews, news, and other information about mentalism and mentalism products.

The Blurb
This is a magical masterpiece from one of the greatest minds
in magic.
Tony Binarelli developed this effect more than 30 years ago
and refined it to perfection. In collaboration with
Card-Shark and produced in Parlour Size cards, this effect
can be performed Close-UP as well as on Stage. Dual Reality
at it's best!
A spectator is blindfolded while the mentalist asks three
different persons sitting in the audience to choose three
cards that are subsequently shuffled with the rest. The
blindfold is removed. Without any sleight of hand, just by
fanning slowly though the cards, the spectator will spot and
remove the chosen cards himself from the deck.
The selections appear to be enormously increased in sizer
for the spectator while they still look totally normal for
the audience. An unexplainable effect.
The "Jheff's Judgment" column below is a brief summary of a longer, more detailed version. For the longer and more in-depth version, and to get news and information about other mentalism products, please visit the Marketplace of the Mind Forum or subscribe to the free newsletter.