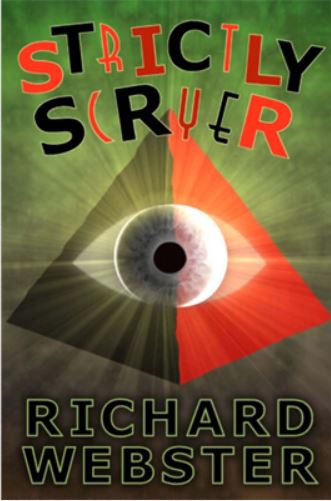 STRICTLY SCRYER
$99.95
This is a non-featured item. For more information, please visit the Marketplace of the Mind Forum, a subscription-based site that contains more detailed reviews, news, and other information about mentalism and mentalism products.

The Blurb
"Neal Scryer's books are fascinating, intriguing and revealing, with priceless information and know how for any Mentalist. Having created my international live TV series "The Next Uri Geller" and meeting hundreds of amazingly skilled and talented performers in the field of mentalism, I can see how books of this nature could inspire young artists who want to enter the world of mind manipulation."
– Uri Geller
Power of love – This is the most convincing demonstration possible with a pendulum…your spectators will love this…
Telepathic card – Two spectators are chosen. One is asked to telepathically transmit a card to the other spectator. Amazingly, she receives the thought. This effect is extremely strong, and both spectators get credit for having psychic abilities. You are going to love this easy-to-present effect. Scryer's confabulations – Two versions, and both are killers. They won't know what hit them. You can't get stronger than this, and the easy methods will delight you.
Crystal Quartz – Scryer uses this effect often, and everyone leaves with a crystal. It's simple, direct, strong, and easy to do. The audience will love you. Everyone gets a reading. In fact, you could do an entire psychic party with this one effect alone, and provide a full hour of mystery and entertainment for ten people.
Who's the devil? – This is a great walk around effect. It's simple, yet so strong. One of your audience members plays the part of the devil, and you guess who it is.
Hundred Dollar Bank Nite – This is the perfect walk around bank nite using crumpled up bills. You can keep them in your pocket and be ready to perform at any time. It's so easy, that it's almost like doing nothing.
Sneaky Si Stebbins – This must be the sneakiest way to get into the Si Stebbins. You don't go near the cards, yet you create a real miracle by successfully predicting several spectators' cards.
Roses – This is a complete act. It's a reputation maker for stage and parlor entertainers. It's so strong, this could appear on a TV special. Scryer has performed this for royalty and received a standing ovation. The authors were going to reserve the TV rights, but decided not to. Roses is Scryer's pride and joy. Respectfully, this effect should be kept in the vault.
Anything Called Out Pateo – This one you can do for an audience for fifty or more it's so easy but so amazing . Fifty people or more can call out anything they want before they stop calling your drawing is done. This one gets a standing ovation.
Center Tear Next Level – It reads as it is takes the center tear to a more meaningful level that goes undetectable .
Two Of A Kind – Two people are left and coincidental they gave the same name a real gem you will love this piece one of Scryer's favorite pieces.
Rose Pendulum – A very beautiful way to use a pendulum – yes a rose – one that Scryer did not want to share. The ladies love this one.
The World's Strongest "Q & A" – All you need is a stack of business cards (yours or the spectators) and your ready to perform the world's strongest and easiest Q & A!
Blindfold Pateo Effect – A few years ago, an internationally-known psychic entertainer saw Neal perform this, and called it "Scryer's Master Piece."
Reincarnated back in time – Everyone goes back to a previous life. No one says anything. You, the performer, take the journey with several members of the audience and tell them who they were. This is another reputation maker, and is something they'll talk about forever.
Crematory Journey – One piece that is in the book is worth a king's weight in gold. Neal feels this is the strongest effect in the book. You lead the spectator through a funeral procession. This effect has a profound and unforgettable climax that the spectator will never forget.
Don't under estimate the power of a Stooge – Stooges! Magicians tend to frown on them, but this book may change your thinking. When used in very limited but powerful way they will accentuate and empower your presence as a performer… This book features two routines using an accomplice, one is a Smash and Stab, the other is Contract Mind Reading. The contact mind reading is such a reputation maker, Scryer has used this in crowds up to 800 – and it absolutely fries em!
Pages: 98 – 6″ x 9″ – Hard Cover
The "Jheff's Judgment" column below is a brief summary of a longer, more detailed version. For the longer and more in-depth version, and to get news and information about other mentalism products, please visit the Marketplace of the Mind Forum or subscribe to the free newsletter.