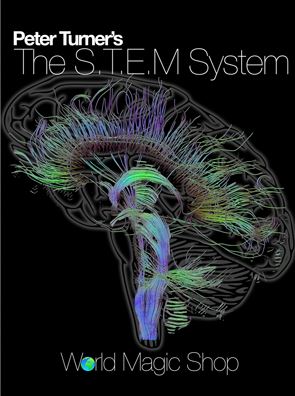 This item is available for pre-order. All pre-orders will receive a free bonus gift worth (To Be Determined) that will be valued at a minimum of $30!!
S.T.E.M. SYSTEM
$230
This is a non-featured item. For more information, please visit the Marketplace of the Mind Forum, a subscription-based site that contains more detailed reviews, news, and other information about mentalism and mentalism products.

The Blurb
Peter Turner has been privileged to work on television, radio and live shows around the world as a consultant, expert and off screen advisor to some of the biggest names in our industry.
Peter finally reveals to you the secrets and techniques used behind the scenes to make those performers' performances look miraculous.
This DVD set is not for novices or amateurs because the material here is so powerful, you will leave your participants' minds BLOWN!
The "Jheff's Judgment" column below is a brief summary of a longer, more detailed version. For the longer and more in-depth version, and to get news and information about other mentalism products, please visit the Marketplace of the Mind Forum or subscribe to the free newsletter.