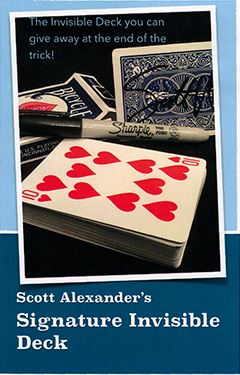 SIGNATURE INVISIBLE PACK
$65
This is a non-featured item. For more information, please visit the Marketplace of the Mind Forum, a subscription-based site that contains more detailed reviews, news, and other information about mentalism and mentalism products.

The Blurb
This is Scott's killer Signature Invisible Deck routine that has been a staple of his show for over 20 years. Only in this version you can actually GIVE THE DECK AWAY at the end. Scott tipped some of the secrets on his live lecture but you get it all here!
Many spectators are hip to the Invisible Deck since it is splattered all over shopping malls, magic stores and even some discount dollar stores. You will not only floor laymen who are not familiar with this deck, but you will devastate those who think they know what you are doing.
Plus Scott includes tips on handling a standard Invisible Deck for those who have problems with the math, and especially spreading the selection. This is a real world workers version of the classic that will leave everyone not only laughing, but completely blown away. Comes with DVD Training, Sharpie and The Invisible Deck. Simply add a regular deck and your signature and you are all set.
The "Jheff's Judgment" column below is a brief summary of a longer, more detailed version. For the longer and more in-depth version, and to get news and information about other mentalism products, please visit the Marketplace of the Mind Forum or subscribe to the free newsletter.