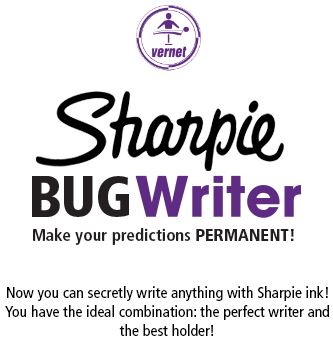 SHARPIE BUG WRITER
$60

The Blurb
Make your predictions PERMANENT!
Now you can secretly write anything with Sharpie ink! You have the ideal combination: the perfect writer and the best holder!
The Sharpie BUG Writer has the perfect grip and great stability due to its anatomical design and ultra stick surface. The Sharpie BUG Holder has the property of keeping the Sharpie BUG Writer always charged with ink.
It also allows you to have the writer always handy, ready to use and safely stored. If that's not enough the set includes an extra bottle of ink that will last forever!!!
It writes exactly like the Sharpie Marker
Ultra safe
Comfortable
Always ready
Real ink
Perfect grip
Write as many as 20 number each time
It recharges in 5 seconds
The "Jheff's Judgment" column below is a brief summary of a longer, more detailed version. For the longer and more in-depth version, and to get news and information about other mentalism products, please visit the Marketplace of the Mind Forum or subscribe to the free newsletter.