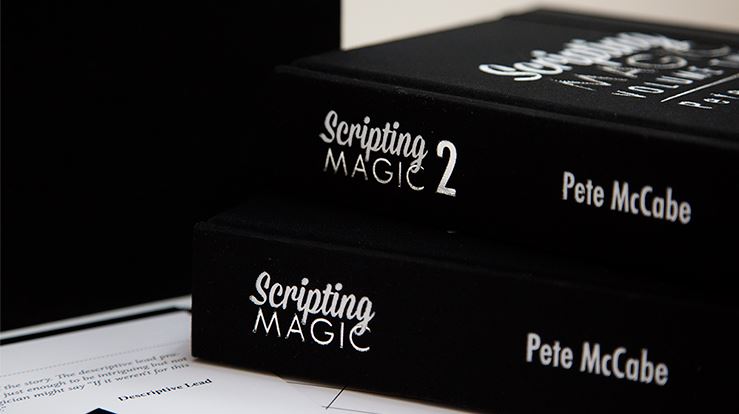 The Blurb
When Scripting Magic was first released in 2007, it was an immediate, surprise sensation. Magicians around the world, hungry for ways to improve their magic, were thrilled to have a volume dedicated to the vital question: what do you say when you perform? Written by Pete McCabe and including contributions from 26 of magic's best thinkers and most experienced performers, Scripting Magic zipped through three printings and has been unavailable for years.
Vanishing Inc. is proud to publish the definitive edition of Scripting Magic. This new version, expanded with illustrations, contains fantastic magic from luminaries like John Lovick, Jon Armstrong, Max Maven, and David Regal, and covers the process for creating memorable presentations. You'll learn how to write, edit, and perform compelling magic in this one-of-a-kind exploration into the presentation of magic.
462 Pages
43 Scripts
30 Tricks
Fully illustrated
Contributors: Michael Ammar, Jon Armstrong, Bruce Barnett, Rafael Benatar, Eugene Burger, Michael Close, Bob Farmer, Paul Green, Eric Henning, Guy Hollingworth, Larry Jennings, Mark Joerger, Kenton Knepper, Jonathan Levit, John Lovick, Max Maven, Eric Mead, Séan O'Néill, Gary Ouellet, David Regal, Jim Steinmeyer, Vic Sussman, Jamy Ian Swiss, Teller, Joe M. Turner, and Larry White.
VOLUME II:
This is the highly anticipated sequel to the smash success, Scripting Magic. Pete McCabe-with help from 25 of magic's best-digs deeper into the most powerful tool in magic: the words you say when you perform. This powerful book will show you how to get more out of the tricks you already do, and develop new presentations that move your audiences in ways you've only dreamed up.
Scripting Magic Volume 2 is the next step in your development as a magician. With a complete overview of the scripting process, practical, real-world exercises, and contributions from a who's who of world class magicians, it's the most advanced single volume ever written on the subject. It takes on the more challenging scripting techniques and makes them accessible for everyone from amateurs to experienced professionals.
Best of all, it includes many ways you can use scripting to improve your magic even if you don't like performing with a written script. Just a few well-placed lines can improve any effect. How many magic books will improve every single trick you do? Scripting Magic Volume 2 will do just that.
Contributors: David Ben, Christian Cagigal, Bob Cassidy, Bob Farmer, Barry Fernelius, Paul Gertner, Roberto Giobbi, Andi Gladwin, Howard Hamburg, Harry Houdini, Derek Hughes, Joshua Jay, Curtis Kam, James Lewis, Max Maven, Francis Menotti, Robert Neale, Andrew Hill Newman, Ruben Padilla, David Parr, Chris Philpott, James Swain, Juan Tamariz, Dai Vernon, Michael Weber, and Larry White.
445 pages
DELUXE EDITION:
(Please note that at the time of this writing, this very limited Deluxe Edition is available. It may not be by the time you read this, so please inquire.)
Vanishing Inc. has produced a very limited number of deluxe editions of both volumes of Scripting Magic, sold as a set. This handsome, clothbound set is the most attractive deluxe edition Vanishing Inc. has yet produced, and it is a befitting treatment for two essential magic books that belong on everyone's shelves.
Because this is a set of books you will return to again and again throughout your life, the slipcase is a convenient way to "hold" shelf space, even when you extract one of the volumes to study. In addition, only Deluxe Edition owners will enjoy a set of exclusive workbook sheets that are included in the Deluxe Edition, with their own special slot in the slipcase. Each Deluxe Edition is individually signed and numbered by the author.
If you believe, as we do, that Scripting Magic Volume 1 and 2 are among the most important volumes on magic written in the last decade, then you might consider owning the rare, Deluxe Edition to display them proudly in your magic collection.
Includes: Scripting Magic Volume 1, Scripting Magic Volume 2, Deluxe Slipcase, Worksheets
The "Jheff's Judgment" column below is a brief summary of a longer, more detailed version. For the longer and more in-depth version, and to get news and information about other mentalism products, please visit the Marketplace of the Mind Forum or subscribe to the free newsletter.