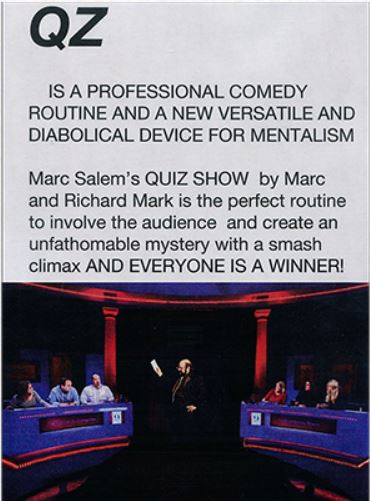 QZ
$41
(List Price: $45)
This is a non-featured item. For more information, please visit the Marketplace of the Mind Forum, a subscription-based site that contains more detailed reviews, news, and other information about mentalism and mentalism products.

The Blurb
QZ IS A PROFESSIONAL COMEDY ROUTINE AND A NEW VERSION OF A VERSATILE AND DIABOLICAL DEVICE FOR MENTALISM
Marc Salem's QUIZ SHOW Comedy routine by Marc and Richard Mark and is the perfect routine to involve the audience and create an unfathomable mystery with a smash climax AND EVERYONE IS A WINNER! The prop, a new double or triple clear force zippered portfolio can be used for hundreds of routines.
The "Jheff's Judgment" column below is a brief summary of a longer, more detailed version. For the longer and more in-depth version, and to get news and information about other mentalism products, please visit the Marketplace of the Mind Forum or subscribe to the free newsletter.