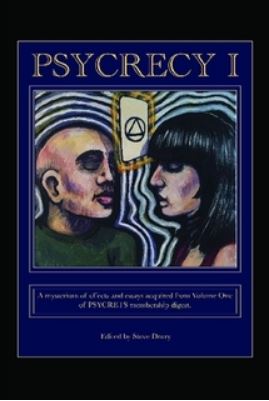 The following item is not sold or distributed by the Marketplace of the Mind. It is available only through the link below ("Link to Site").
PSYCRECY 1
£99.97
This is a non-featured item. For more information, please visit the Marketplace of the Mind Forum, a subscription-based site that contains more detailed reviews, news, and other information about mentalism and mentalism products.

The Blurb
PSYCRECY 1 is a hardback, 320 page mysterium of essays, effects and routines taken from the first volume issues of PSYCRETS (British Society of Mystery Entertainers) quarterly printed membership digest. It also features some previously unpublished and revised bonus material from members and friends of the Society. In total 38 contributions from the field of mentalism, bizarre magick and psychic entertainment are included.
Contributors include Barrie Richardson, Marc Salem, Banachek, Roni Shachnaey, Lior Manor, Peter Turner, Pablo Amira, Michael Murray, Atlas Brookings, Anthony Blake (USA), Mauricio Jaramillo, Chris Rawlins, Steve Drury, Ben Cardall, Christian Chelman, Prof. BC, Todd Landman, Sheila Lyon, Enrique Enriquez, Perry Carpenter, Dee Christopher, Christopher Taylor, Cameron Murray, Rainer Mees & Thomas Heine, Stuart Palm, Bob Percy, Luca Volpe, Stephen Young, Walt Anthony, Jim Magus, Vito Gatullo, Rudolf Kunzli, Mitos Odnalor, Ray Doetjes, Christopher Faria, Lars Ruth and Alan Jones.
Foreword by Roni Shachnaey   /  Author/Publishing Editor – Steve Drury
The "Jheff's Judgment" column below is a brief summary of a longer, more detailed version. For the longer and more in-depth version, and to get news and information about other mentalism products, please visit the Marketplace of the Mind Forum or subscribe to the free newsletter.