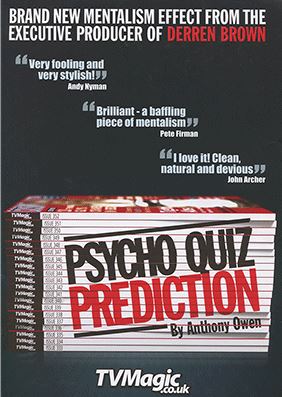 PSYCHO QUIZ PREDICTION
$22
This is a non-featured item. For more information, please visit the Marketplace of the Mind Forum, a subscription-based site that contains more detailed reviews, news, and other information about mentalism and mentalism products.

The Blurb
Effect:
A random spectator is asked to answer out loud three questions from a psychological personality quiz on the back page of a genuine issue of Cosmopolitan magazine (USA edition. Please note magazine is not included. Purchasers are given details of how to easily obtain copies outside of the USA). Amazingly you have correctly predicted in advance with a three stage prediction exactly which answers they will give. Three big, amazed reactions from the audience are guaranteed from just a magazine. No one ahead (all three predictions are written before anything is said by the spectator).
No pre-show. The method is totally self contained. No secret assistants or stooges, only one prediction which is genuinely written in advance, nothing is switched or changed. Can be performed on the largest stage or up close on the street, in a restaurant, cocktail party, trade show, house party, college. Anywhere. Even over Skype with the predictions sent in advance by email. It will work every single time with 100% accuracy.
Comes with all the necessary very specially produced gimmicks which, if used with care, will last for hundreds and hundreds of performances.
The "Jheff's Judgment" column below is a brief summary of a longer, more detailed version. For the longer and more in-depth version, and to get news and information about other mentalism products, please visit the Marketplace of the Mind Forum or subscribe to the free newsletter.