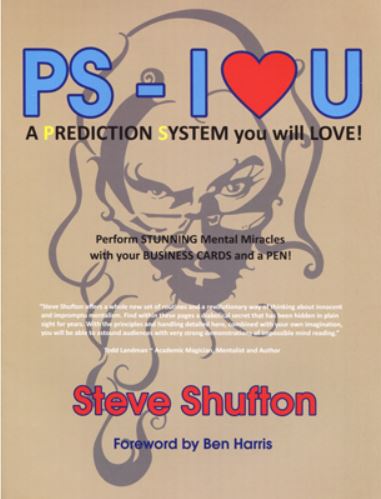 P.S. I LOVE YOU
$19.95

The Blurb
Impossible magic with your business card. Very strong, and your card is left in the hands of a completely bewildered and grateful spectator. What could be better as an opener, introduction or any random demonstration of your incredible clairvoyant, psychic powers? With no other explanation available, they must begin to believe…!
The participant counts off seven business cards. A prediction is written on the first card and put on the table or in the individual's pocket. It will NEVER be touched again by the performer! The remaining cards are numbered one through six, under the strict observation of the participant. The cards are mixed and the individual selects any one of them. Even so, she turns over the tabled prediction, and it matches her selection!
PS – I Love You, in its most basic form, is remarkably simple to perform!
No sleight of hand!
No memory work!
No forcing of cards!
No equivocation!
No stooges!
Just you, your seven business cards and any pen! THAT'S ALL!
But you can take it MUCH further…
Do it again for the same participant, with an even stronger climax! Have the cards spread out on the table, and invite the individual to mix them herself! She turns over both the prediction, and her selection – they match – 100% of the time!
Prove your mental capabilities anytime, anywhere and with anyone. The possibilities are only limited by your creativity!
Imagine setting your prediction on the table before asking a spectator to name any colors, names, dates, ESP symbols– whatever you want! The cards are mixed, she helps mix them! She spreads the cards about on the table herself, and selects any one of them (she can change her mind as often as she would like). She turns over the prediction and her choice- of course they match! She scrutinized the making of the cards, she counted them, she mixed them, she spread them, and she did the selections and reveal, with no interference from you at all (except your charm), and of course- the prediction matches every time!
Would it be possible to ask a stranger to name some friends or family members – after your prediction is already in their possession, and then have them choose one of them randomly – and your prediction will still match? YES! Any words or bits of information you can garner at all. You will ALWAYS accurately predict the one out of 5, 6 – even 12, each and every time. You must really be clairvoyant! (Nah… it's a trick!)
What about other magical applications? There are many, including highly visual feats of impossibility! Prepare yourself for a night of walk around, with instant reset capability! Simple, straightforward, powerful, entertaining and repeatable! Who could ask for anything more?!
A professional system you will use over and over, leaving your business card in the hand of an excited spectator with an 100%, sure fire accurate prediction! Put away your gimmicks, and make room for PS – I Love You. Never leave home without it!
WHAT OTHERS ARE SAYING [SELECTED TESTIMONIALS]:
"Steve Shufton offers a whole new set of routines and a revolutionary way of thinking about innocent and impromptu mentalism. Find within these pages a diabolical secret that has been hidden in plain sight for years. With the principles and handling detailed here, combined with your own imagination, you will be able to astound audiences with very strong demonstrations of impossible mind reading."
-Dr. Todd Landman ~ Academic Magician
"Like a musician which he is, Steve Shufton has taken a theme and created a medley, really a fugue, with developed variations on a theme. Whether one does the entire routine or even just a part or two of it, I think a lot of people are going to get a lot of mileage out of this. When you consider all you need to have with you is a half dozen business cards and a pen or Sharpie in your pocket, I think it'll be hard to leave home without it."
– Richard Busch – Author, Creator
"Some tried and tested ideas, in an exciting new configuration. In the right hands, a miracle."
– Marc Salem
"Leave it to Steve Shufton to find new ways to knock audiences out using a method I thought I already knew inside out and backwards! These effects are beautifully constructed and thoroughly detailed, with a mental angle that would fit comfortably in my strolling set."
– Neil Tobin, Necromancer
"'PS-I-LOVE-U' is a very clever prediction concept by Steve Shufton. It's more than just a single effect or routine because the basic idea is extremely versatile. It's bold, but several clever subtleties in handling and presentation make it look extremely fair and above board.
This is easily one of the best uses you'll ever find for your business cards. And if you don't have business cards, PS-I-LOVE-YOU will convince you to remedy that ASAP.(And, apart from a Sharpie to write with no other props or gimmicks are required.)
Annemann would have been proud of this. (And Doctor Crow would have stolen it, so I haven't shown it to him.) Highly recommended."
– Bob Cassidy
"Great thinking, a very fine piece of mentalism."
– Neal Scryer
"I got the book. I like it a lot… Very good! This is good-ole-down-to-earth mentalism that will work all the time and whose secret is well hidden especially with the clever subtleties Steve has incorporated into the basic idea. You won't have to wonder if it will play well and impress your audience. It will. Just do it the way Steve says and you will have a winner."
– Richard Osterlind
"I really wanted to thank you for sending me your recent contribution to our art. I love the devilish cleverness of this, as you may know I am a little biased to anywhere anytime effects like this as they are exactly what a mind reader should be able to do. You have a great one, my friend."
– Banachek
The "Jheff's Judgment" column below is a brief summary of a longer, more detailed version. For the longer and more in-depth version, and to get news and information about other mentalism products, please visit the Marketplace of the Mind Forum or subscribe to the free newsletter.