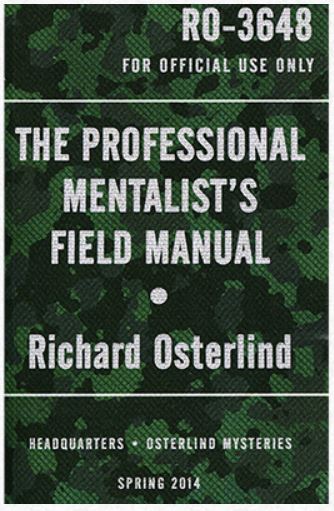 PROFESSIONAL MENTALIST'S FIELD MANUAL
$35
This is a non-featured item. For more information, please visit the Marketplace of the Mind Forum, a subscription-based site that contains more detailed reviews, news, and other information about mentalism and mentalism products.

The Blurb
The Professional Mentalist's Field Manual is Richard's no-nonsense guide to the world of professional mentalism.
This book is unlike any other ever offered. His hard-hitting advice is incredibly insightful and priceless for the working performer.
Beware though:
Richard doesn't pull any punches! However, if you have ever attended one of Richard's lectures or workshops, you will immediately understand the value of this book.
Real-world experience oozes off every page as Richard deals with such topics as the proper structure of a mentalism show, handling audience participants (not volunteers!), professional stagecraft, and so much more. And, in a lengthy chapter, Richard deconstructs his own show in meticulous detail and bares, for the first time, the reasoning behind his own professional choices in putting together the show that has taken him around the world.
When you really get serious about your career as a professional mentalist, it's time for you to read The Professional Mentalist's Field Manual.:
A professional survival manual for performers on the front lines!
22 loaded chapters filled with some of the most important tactics you will ever read!
Straight shooting secrets that are right on target!
Hard hitting advice that will lead you to victory!
Perfect bound, 114 pages.
The "Jheff's Judgment" column below is a brief summary of a longer, more detailed version. For the longer and more in-depth version, and to get news and information about other mentalism products, please visit the Marketplace of the Mind Forum or subscribe to the free newsletter.