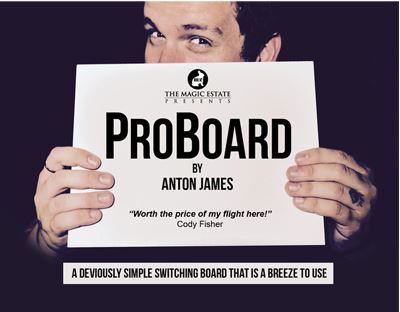 PROBOARD
$29.95
This is a non-featured item. For more information, please visit the Marketplace of the Mind Forum, a subscription-based site that contains more detailed reviews, news, and other information about mentalism and mentalism products.

The Blurb
Simple. Innocent. Effective.
The ProBoard is the PERFECT switching pad that allows you to write down a word, image, number, prediction or anything else you want on a piece of paper and impossibly change it or secretly switch it! This is the ProBoard by Anton James!
Comes with online training VIDEO and tips on how to get the most out of your ProBoard.
Exclusive Brainstorm Session with ideas for your ProBoard.
Super durable and long lasting material.
A utility that is only limited by your imagination.
"Worth the price of my flight here!"
– Cody Fisher – Full Time Corporate Magician
"Super simple and effective. My preferred switching pad."
– Jeff Kaylor – Creator of Top Rated Products
The "Jheff's Judgment" column below is a brief summary of a longer, more detailed version. For the longer and more in-depth version, and to get news and information about other mentalism products, please visit the Marketplace of the Mind Forum or subscribe to the free newsletter.