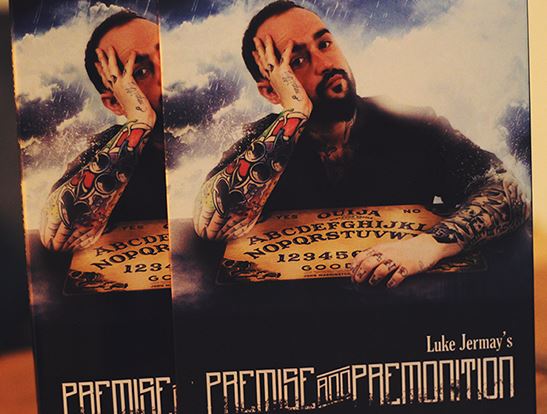 PREMISE AND PREMONITION
$75

The Blurb
Luke Jermay is widely recognized as one of the most prolific and respected mentalists of our time. A true auteur, his style of mindreading has affected the way many performers view their craft. In this set we see Luke performing a wide range of material from practical cabaret mentalism to miracle-level close-up card magic. Perhaps most exciting, Luke also performs and explains a full twenty-minute hypnosis demonstration.
* Fifteen reputation-making routines direct from Luke's repertoire.
* A full DVD (including two performances) on Luke's headline prediction: the perfect publicity stunt.
* Learn Luke's no-hypnosis hypnotism act and a full Q & A style show with absolutely no preshow or stooges.
Full Contents:
Silent Communication
Black Ball Location
Shape Shifter Drawing Duplication
Dirty Secret Club
Touching on Hypnosis
Modern Oracle
Fool's Journey
Blindfold Deal & Other Routines
Marked Personality
He Will Find You
Story Without an End
Double Dowsing
Nailed ACAAN (performance only)
Premonition Headline Prediction
Gladwin Interviews Jermay
Closing Thoughts
Running time: 8.5 hours. 4 DVDs in a beautiful slipcase.
The "Jheff's Judgment" column below is a brief summary of a longer, more detailed version. For the longer and more in-depth version, and to get news and information about other mentalism products, please visit the Marketplace of the Mind Forum or subscribe to the free newsletter.