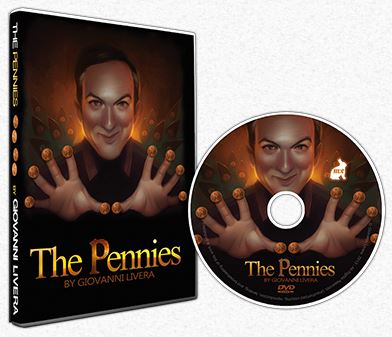 PENNIES, THE
$30
This is a non-featured item. For more information, please visit the Marketplace of the Mind Forum, a subscription-based site that contains more detailed reviews, news, and other information about mentalism and mentalism products.

The Blurb
The Pennies is a little known mathematical puzzle, that GIOVANNI LIVERA presentation takes it to a new level.
Requires NO slight of hand.
Can be done with ANY object.
Is like Miser's Dream on a mat. Spectator freely chooses where to add the coins, yet when counted the same number of pennies exist.
Mind blowing fun for the performer AND the spectator.
They say it's not what you do it's how you do it, so lets get ready to do it right! See one of magics' greatest innovators take a mind boggling, self working puzzle and turn it into a MAGICAL EVENT your audience will LOVE! This is THE PENNIES by GIOVANNI LIVERA. Golden Cups winner and celebrated motivational speaker Giovanni Livera shows you how a totally impromptu puzzle, a roll of pennies, and solid routine can bring the house down! The routining techniques taught here are invaluable and can take your existing routines to new heights! Learn to turn a puzzle into a show piece. The most fun you can have for fifty cents!
No Gimmicks! Cool psychology with pure showmanship!
"I have witnessed Giovanni get loud cheers and a standing ovation when he did this routine for forty sophisticated magicians! This is one of the only tricks I would like to master before I depart this world."
– Barrie Richardson – Magician Legend
The "Jheff's Judgment" column below is a brief summary of a longer, more detailed version. For the longer and more in-depth version, and to get news and information about other mentalism products, please visit the Marketplace of the Mind Forum or subscribe to the free newsletter.