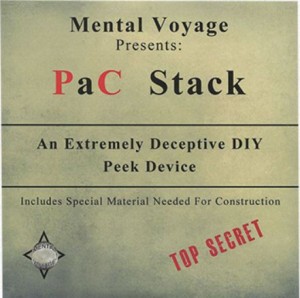 PAC STACK
$25
This is a non-featured item. For more information, please visit the Marketplace of the Mind Forum, a subscription-based site that contains more detailed reviews, news, and other information about mentalism and mentalism products.

The Blurb
The latest in Mental Voyage's Arts & Crafts series!
PaC Stack is an innocent looking, easy to make, gimmicked stack of cards.
PaC Stack can be used to peek words or images in a very deceptive fashion. It can also be used as an Out To Lunch pack and for secret writing.
You may need to buy a few items needed to make the PaC Stack, but you should be able to get everything you need for under $10.
If you purchase the DVD you will get one of "Special Items" you need to construct the gimmick.
What comes included:
25 minutes of video instruction detailing the construction and use of PaC Stack
Performance tips
Details on how to use the PaC Stack for peeking, Out to Lunch and secret writing.
With The DVD you get the same video explanation as the download, PLUS one of the "Special Items" needed to construct the gimmick.
The "Jheff's Judgment" column below is a brief summary of a longer, more detailed version. For the longer and more in-depth version, and to get news and information about other mentalism products, please visit the Marketplace of the Mind Forum or subscribe to the free newsletter.