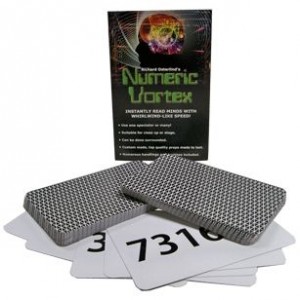 NUMERIC VORTEX
$50
This is a non-featured item. For more information, please visit the Marketplace of the Mind Forum, a subscription-based site that contains more detailed reviews, news, and other information about mentalism and mentalism products.

The Blurb
Instantly read minds with whirlwind-like speed!
Imagine having the power to extract a number…any
number…a random number…even a complex 6-digit
number…from another person's mind!
Now you can…with Richard Osterlind's newest creation –
Numeric Vortex. With the Numeric Vortex system, you'll be
able to accurately and flawlessly extract a six digit number
from the minds of two, three or even more spectators. It
looks just like real mind reading!
With Richard Osterlind's Numeric Vortex, you'll receive 60
stage-sized cards (4.25″ x 6.75″) printed on quality stock
designed to last a lifetime, with each bearing a boldly
printed six-digit number. You'll also get Richard's
comprehensive training manual outlining not only the
revolutionary thinking behind the Numeric Vortex system but
also many performance tips and routining ideas. What's more,
we predict that you'll be amazed at the incredible method
behind Numeric Vortex – a ground-breaking new discovery by
Richard Osterlind utilizing a brand-new principle that
rivals his Breakthrough Card System in ingenuity.
Suitable for stage, parlor, and close-up, you'll never run
out of ways to utilize Numeric Vortex.
The "Jheff's Judgment" column below is a brief summary of a longer, more detailed version. For the longer and more in-depth version, and to get news and information about other mentalism products, please visit the Marketplace of the Mind Forum or subscribe to the free newsletter.