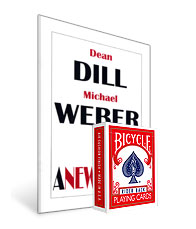 NEW WORLD
$27
(List Price: $30)
This is a non-featured item. For more information, please visit the Marketplace of the Mind Forum, a subscription-based site that contains more detailed reviews, news, and other information about mentalism and mentalism products.

The Blurb
For more than twenty years, Dean Dill and Michael Weber have kept their original method for Out Of This World a secret. Their secret can now be yours. Discover A New World. The Paul Curry classic made perfect, plus special gaffs, secret marks, hidden codes, subtle cues, and a built-in memory-free version of the Aronson Stack. The deck includes a photo-illustrated instruction booklet that details the effect and method created by Dill and Webber. This trick is a must have!
**JHEFF'S GUIDE**
WHAT IT IS:
Effect with Props
HOW ACCURATE OR COMPLETE THE BLURB IS:
Accurate or nearly accurate and complete.
SUITABLE VENUES:
Close-up, Parlour
JHEFF'S JUDGMENT:
When Dean Dill and Michael Weber release something, you know it's good.  It does improve upon the original (Paul Curry's Out of This World) with a very elegant sleight-less solution though this may not be everyone's cup of tea.  Definitely recommended.
The "Jheff's Judgment" column below is a brief summary of a longer, more detailed version. For the longer and more in-depth version, and to get news and information about other mentalism products, please visit the Marketplace of the Mind Forum or subscribe to the free newsletter.