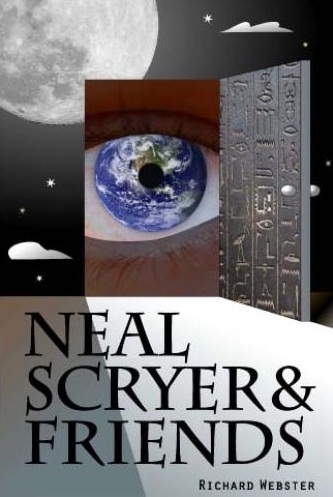 NEIL SCRYER & FRIENDS
$235
This is a non-featured item. For more information, please visit the Marketplace of the Mind Forum, a subscription-based site that contains more detailed reviews, news, and other information about mentalism and mentalism products.

The Blurb
"Neal Scryer and Friends" is a big book (600 pages, 6? x 9?, hardback) containing 20 new effects from Neal Scryer, plus the favorite effects from 85 of his friends.
These include many high profile names, such as: Jerome Finley, Paul Shirley, Ron Chavis, Paul Carnazzo, Esmeralda "Gypsy," Joshua Quinn, Craig Filicetti, S.E. Rivkin, Doug Dyment, Misaki Gabrielli, Jonathan Stravinsky, Aroldo Lattarulo, Clairaudio, EXP, Joseph Curcillo, Richard  Webster, Father Anthony, Abha, Dan (Evil Dan) Terelmes, Prince Thebs, Colleen Terelmes, Richard Mark, Rich Hennessey, Toni Iacoviello, Neal Rider, Roy Shubert, Sal Franchino, Rick Roth, Bob Killian, Nick Belleas, Allen Zingg, Mauricio Jaramillo, Bobby Torkova, Greg Edmonds, David Thiel, Bob Cassidy (Dr. Crow), Witch Doctor, Charles Garner, Patrick Redford, Daniele Nigris, Anthony Jacquin, Kev Sheldrake, Ken Dyne,  Luca Volpe, Walter Davis, Sebastian Black, Jon Stetson, Looch, Scott Grossberg, Raj Madhok, Alexander Thomas, Paul Romhany, TC Tahoe, Thomas Heine & Rainer Mees (ParaLabs), Alexandre, Mota, Nefesch, Meraux Dantes, Darrell Mac, Marc Salem, Max Maven, Ross Johnson, Colin McLeod, Paul Voodini, Banachek, Alain Nu, Pablo Amira, W. M. Barclay, Alexander Nelson, Bill Montana, Christopher Taylor, John Riggs, Michael Weber, Docc Hilford, Tony Razzano, Ted Karmilovich, Rudy Hunter, Iain Dunford, Carlos Emesqua, Owen Darque, Juan David Arbelaez, Joe Zabel, Sibyl, H. Arcana.
Special Bonus: A Killer contribution by Jeff Mc Bride that you will definetely want to add!
Testimonials and Endorsements:
"Neal Scryer's books are fascinating, intriguing and revealing, with priceless information and know how for any Mentalist. Having created my international live TV series "The Next Uri Geller" and meeting hundreds of amazingly skilled and talented performers in the field of mentalism, I can see how books of this nature could inspire young artists who want to enter the world of mind manipulation."
Uri Geller
"I politely don't give endorsements for books, but I want to make an exception here. The information contained in this book is as rare and amazing as the only word Annemann used to call forth the spirits, "Gabatha!"
Docc Hilford
"This is not another book full of magic tricks posing as Mentalism. This is the real thing."
Michael Weber
"The mysterious Neil Scryer has used his persuasive powers and finagled his comrades and associates into contributing their most perplexing effects and presentations to a compendium that is destined for classic status in the world of magic and mentalism. Scryer now joins Andruzzi as a legend."
Ross Johnson
"Neal Scryer and his works have become an incredible source of inspiration to professional mentalists around the globe for numerous good and well deserved reasons. They are by far the most enjoyable, useable and textured books showcasing the REAL WORK behind our craft that I've read in the past decade…and his latest masterpiece is no exception! Amidst a million poor examples of what pure, effective psychic entertainment should look and feel like, Scryer has appeared once again to reveal a better, truer way that until now was almost wholly lost."
Jerome Finley
The "Jheff's Judgment" column below is a brief summary of a longer, more detailed version. For the longer and more in-depth version, and to get news and information about other mentalism products, please visit the Marketplace of the Mind Forum or subscribe to the free newsletter.