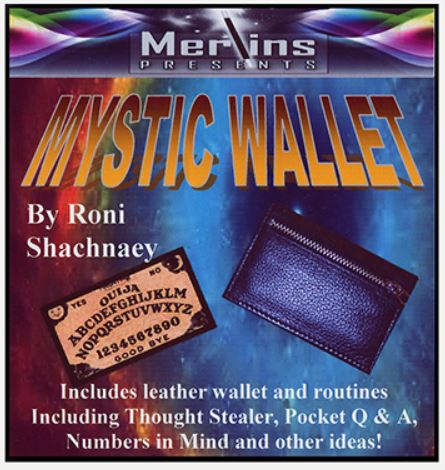 MYSTIC WALLET
$54
(List Price: $59.95)
This is a non-featured item. For more information, please visit the Marketplace of the Mind Forum, a subscription-based site that contains more detailed reviews, news, and other information about mentalism and mentalism products.

The Blurb
Merlins is very proud to have obtained the world exclusive manufacturing and distribution rights for the Mystic Wallet from its creator, Roni Shachnaey. It is a real "utility" device and the suggested routines are from Roni's own act which he has done for many years. The wallet has lots of potential and we are sure you will come up with many more routines.
Roni created this wallet for two main reasons:
1. To read spectators thoughts (Peek)
2. To secretly write spectators thoughts.
He has included his own routines which he has done for many years including:
Thought Stealer, Pocket Q & A and Numbers in Mind.
We are sure that you will be able to adapt any "peek" routine for use with this super wallet. It is made from top quality leather with pockets for credit cards, billets etc. It is a great size to slip in your pocket at just 11cm x 8cm, but plays big in any mentalist routine.
The "Jheff's Judgment" column below is a brief summary of a longer, more detailed version. For the longer and more in-depth version, and to get news and information about other mentalism products, please visit the Marketplace of the Mind Forum or subscribe to the free newsletter.