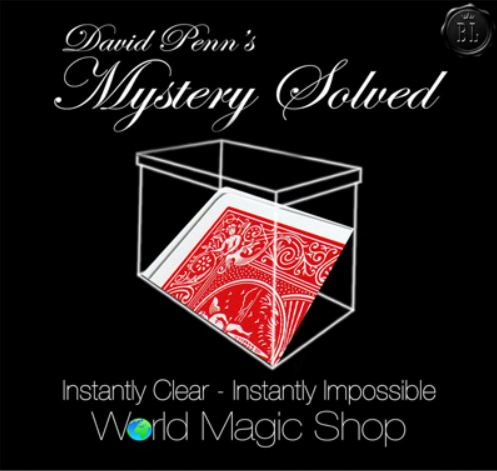 MYSTERY SOLVED
$72
This is a non-featured item. For more information, please visit the Marketplace of the Mind Forum, a subscription-based site that contains more detailed reviews, news, and other information about mentalism and mentalism products.

The Blurb
"The next big thing is HERE!" – Eric Jones
The World's leading magicians, creators and historians have heralded David Penn's Mystery Solved as "The Holy Grail".
In any lighting conditions, close-up, walk around, parlour or stage you will be able to perform the cleanest and clearest switch ever!!!!!
A killer ending for card to impossible location
The perfect solution to the dream card plot
The most direct and fair Confabulation routine you have ever seen.
Mystery Solved has been perfectly engineered and custom made from the ground up, to provide you with a method that you will enjoy using again and again and yet your spectators will never see a thing!
As Marc Oberon Said – "When I saw Mystery Solved I couldn't believe a switch was occurring".
Utilise Mystery Solved as your finale, in the cleanest and clearest card to box ever, or to reveal a prediction.
A signed card vanishes from the deck only to be discovered in the clear box that has been isolated under a wine glass the entire time!
In a mentalism routine your audience can see you place the prediction inside an empty box. After asking for random information from your audience members, the prediction can be tipped out at fingertips, before being read out loud by a spectator.
The card is tipped out at fingertips making the retention of vision incredibly strong and deceptive.
The box is only half the size of a deck of cards!
The box is instantly empty and clear!
The contents can be changed/customized in three minutes!
You can place objects in the box and clearly tip them out!
As well as the thinking behind Mystery Solved, the accompanying DVD which was shot on location within London's Shard, provides a wealth of information including David's card routine guest star – Peter Turner describes devious ways to use Mystery Solved in mentalism routines.
Here is what some of the world leading performers, creators and Magical thinkers are saying about David Penn's Mystery Solved:
"The next big thing is HERE!"
– Eric Jones
"That is ***king Incredible! One of the best things I have seen in ten years! I'll use this"
– Peter Turner – The Perceptionist
"David Penn has created the HOLY GRAIL of Card To BOX"
– @PeterEggink
"What The **CK!"
– @trollcarl (Tom Stone)
"Holy Moly! That has to be real magic. There is no other explanation"
– Jonathan Levit
"This is the best effect I have every created, Including Coinvexed. I am proud to introduce it to the magic community"
– @DavidPennMagic
******** TV Rights and all Video For Profit Rights are reserved by David Penn. Please contact the creator if you wish to use this effect for such a purpose *********
The "Jheff's Judgment" column below is a brief summary of a longer, more detailed version. For the longer and more in-depth version, and to get news and information about other mentalism products, please visit the Marketplace of the Mind Forum or subscribe to the free newsletter.