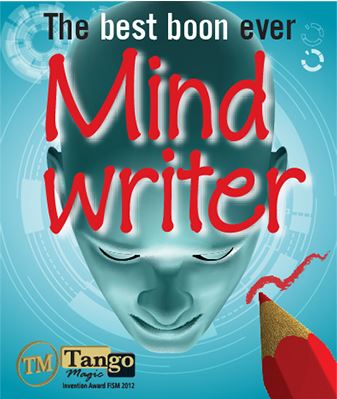 MIND WRITER
$60
This is a non-featured item. For more information, please visit the Marketplace of the Mind Forum, a subscription-based site that contains more detailed reviews, news, and other information about mentalism and mentalism products.

The Blurb
Marcelo Insúa, winner of the FISM 2012 Invention Award
presents…
The Best Boon Ever!
MIND WRITER
Marcelo Insua a.k.a Mr. Tango, designed his own "boon" years
ago. Through thousands of performances he has finally
perfected a boon that won't fall off your finger, and allows
you to write more legibly than ever before. Most boon
writers have a concave shape that fits onto the fingertip.
But this concave shape poses problems as you write or draw
in secret, and so Marcelo has developed a new, better way to
transcribe information. If you have ever been scared to try
a boon writer, this is the product for you! Gimmick and DVD
included.
The "Jheff's Judgment" column below is a brief summary of a longer, more detailed version. For the longer and more in-depth version, and to get news and information about other mentalism products, please visit the Marketplace of the Mind Forum or subscribe to the free newsletter.