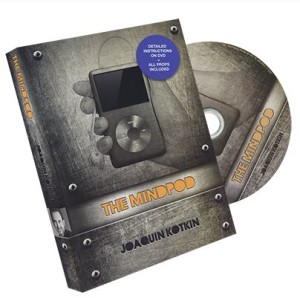 THE MINDPOD
$40
This is a non-featured item. For more information, please visit the Marketplace of the Mind Forum, a subscription-based site that contains more detailed reviews, news, and other information about mentalism and mentalism products.

The Blurb
DIVINATION OF A THOUGHT-OF TUNE
Two sets of cards are shown. They resemble mini iPods and contain the titles of 100 popular songs. The spectator mentally chooses one of the songs. Then removes two cards that bear the title of the selected song. The performer can instantly name the thought-of song. A totally self-working mystery. Includes special cards and further presentational ideas for close-up, parlour and stage. We have even compiled a Spotify playlist so that you can play the mentally chosen song from your smart phone.
The "Jheff's Judgment" column below is a brief summary of a longer, more detailed version. For the longer and more in-depth version, and to get news and information about other mentalism products, please visit the Marketplace of the Mind Forum or subscribe to the free newsletter.