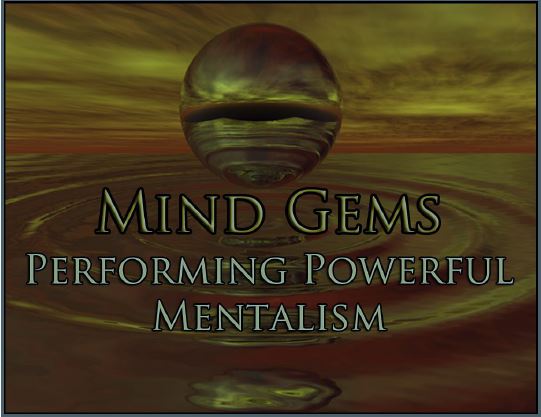 The following item is not sold or distributed by the Marketplace of the Mind. It is available only through the link below ("Link to Site").
MIND GEMS: PERFORMING POWERFUL MENTALISM
$34.95

The Blurb
We posed a question to every member of the Mind Gems Faculty: "If you could share anything with the mentalism community, what would it be?" What we got — the contributions to this one-of-a-kind eBook — will delight, challenge and surprise you.
Richard Osterlind sends a routine that celebrates a classic from Corinda…but even better, he also shares his thinking on the process he uses in updating the classics so they blow away modern audiences
Marc Salem sent in two routines: the first is a 'can't miss' lie detector routine that will make you smile…the second is a very special effect that blends an organic method with an absolute killer reveal
Paul Prater, known for his groundbreaking work in bizarre mentalism, shares an essay that will challenge you to take your cold readings into a whole new dimension. These thoughts will challenge you, no matter whether you are a pro, semi pro or perform mentalism for the love of it
TC Tahoe, bestselling author and award winning performer, wants you to consider in two outstanding presentations. This is a masterclass in storytelling and the presentation of mentalism. One will send chills down your spine and the other will make you smile.
Jheff contributes the very commercial "Starminder Redux" — a powerful celebrity themed routine…and a list of ten gems for performing performing professional mentalism
David Thiel teaches you how to use body language to know how your volunteers (or anyone else) is feeling about you, how to choose the right volunteer for the right effect and how to make your mentalism relevant for your audience…no matter what audience you are performing for.
Sheree Zielke, theatrical director, offers exercises on how transition from magician to mentalist. And if you are already a performing mentalist, Sheree shares invaluable direction on exercises and questions that will help you be more effective.
Christopher Taylor, the mind behind some of the most innovative releases in mentalism, shares an exciting option for the classic Free Will effect. This contribution is a memory making blend of outstanding storytelling and diabolical method.
The legendary Lee Earle shares a full essay that covers a lot of ground: how to perform more effectively, how to make reveals with impact…how to do the kind of show people will remember. This is an essay YOU will remember.
Atlas Brookings, author of the bestselling Train Tracking book and many other effects is ready to challenge you with one of the most groundbreaking essays we've ever read on performing powerful mentalism and defining who you are as a mentalist.
Kennard Chandler is a performer you may not be familiar with. He's been quietly making a living as s full time performer for decades. He contributes a bulletproof memorized deck effect…and another routine using an Open Billet Box
Tony Razzano — past president of the PEA and a member of the legendary New York 13 — shares his thoughts on doing readings. Tony has done literally thousands of readings and what he has to say about the process, about the way to treat the sitters will open your eyes to how the shut eyes operate.
This 142 page eBook is designed to challenge you. It's designed to excite you. It's designed to revolutionize the way you look at the performance of mentalism. Your eBook will be emailed directly to you within a maximum of 24 hours of when you make your payment.
(Note: Members of the MGBT Project are invited to purchase their copies at a discount. Details are in the Member Forum.)
The "Jheff's Judgment" column below is a brief summary of a longer, more detailed version. For the longer and more in-depth version, and to get news and information about other mentalism products, please visit the Marketplace of the Mind Forum or subscribe to the free newsletter.