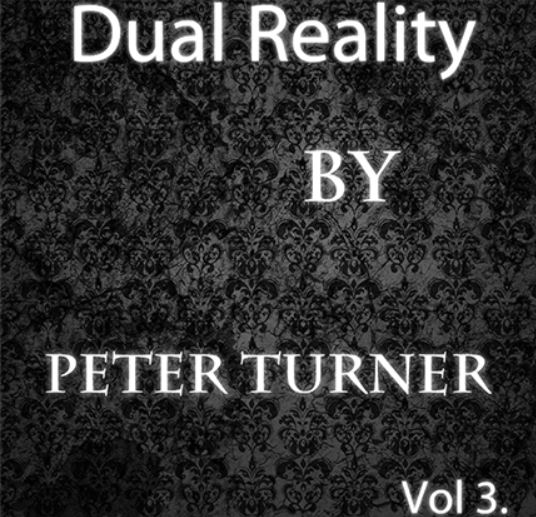 NOW AVAILABLE #12: PROPLESS MENTALISM
Featured Recommended Product
MENTALISM MASTERCLASS (PDF SERIES)
The Blurb
NOW AVAILABLE – #12 PROPLESS MENTALISM
VOLUME 1: PSYCHOLOGICAL PLAYING CARD FORCES
In Volume 1 Peter Turner teaches you all the nuances of psychological forces and most importantly how to make it hit every time.
This eBook does not just teach you a simple technique. In this 42 page eBook you are going to learn how to force EVERY SINGLE PLAYING CARD just by using words.
Imagine that you are able to force every single playing card without the use of a deck of cards.
But it does not stop there Peter Turner teaches you complete routines and details on psychological forcing. Peter even teaches you how to force the Joker!
Peter Turner is one of the best mentalists in the world and in this eBook he teaches you some of his hidden secrets that has never been released anywhere else.
This is a no brainer! Get it now!
VOLUME 2: READINGS
Welcome to the 2nd Volume of Peter Turner's mentalism master class.
In this volume Peter teaches techniques and methods about how to do a proper reading and how to make it as surefire as it can be.
This eBook teaches you techniques of Cold Reading by the master mentalist himself!
Cold reading is a very under-used technique but is still one of the strongest if not the strongest technique in the world of mentalism.
Imagine you walk up to somebody and without any gimmicks or props you are able to give a perfect personality reading to that person. In this eBook you will learn how to do just that!
But that's not all, Peter offers you complete routines that allow you to practice these techniques without any chance of failure.
This is Volume 2 Readings by Peter Turner!
VOLUME 3: DUAL REALITY
This is the 3rd Volume of Peter Turner's Mentalism Masterclass.
This volume is dedicated to a very underused technique called Dual Reality. Peter Turner teaches you various techniques and helps you make Dual Reality an easy worker in your repertoire.
In this 62 page eBook you will learn awesome routines that you can go out and perform right away.
No stone left unturned on the subject, every detail is well constructed and very easy to learn.
Welcome in Mentalism Masterclass Volume 3 by Peter Turner
VOLUME 4: BILLETS
In Volume 4 Peter Turner teaches you the easiest and best billet peeks that you can imagine. Whatever information your spectator writes down you will know it and be able the reveal it in any way you want.
Billets is a 76 page eBook and it teaches you the psychology of peeking with many routines.
You can make a complete act only with some billets and a pen. No stone left unturned in this project, Peter Turner teaches you every detail of billet peeking and gives you some awesome routines.
Whether you want to use slips of paper, or your business cards, you'll find methods and advice in this bumper edition of Peter Turner's mentalism course.
For this bargain price you will receive information that is pure gold!
This is Billets by Peter Turner!
VOLUME 5: DRAWING DUPLICATIONS
This is Volume 5 of Peter Turner's Mentalism Master Class.
In this volume Peter talks about Drawing Duplications.
You will learn many routines and methods with Peter's insanely clever thinking on the plot!
Peter talks about:
– The psychology of drawing duplication
– The wash principle
– Abstract technique
– Pencil reading
– Indexing
Peter teaches you many routines and he walks you through on all routines, methodology, additional ideas and techniques.
Peter's teaching is crystal clear, no stones left unturned!
If you are into mentalism this is a no brainer!
PDF 65 pages instant download!
VOLUME 6: NUMBERS
This is the 6th volume of Peter Turner's Mentalism Masterclass. This volume is about numbers.
This is the only volume where Peter talks about his feelings and thoughts during the creation procedure so you have a chance to step into some moments of Peter's everyday life.
As always Peter's teachings are very enjoyable to read and very easy to understand.
Effects included:
Serial Killer: This is a prediction effect with a very cool story around it. The spectators make all the choices and they can change their mind as many times as they wish. This effect is very clean, it packs small and plays huge!
Cypher: In this effect the performer asks one spectator to think of his pin code and another spectator to think of a name. Both the pin code and the name are revealed in a unique way!
Life Equation: This effect can be done over the phone anytime. The spectator is invited to create a special number that uses important numbers from his life. He has a free selection that makes a total. The performer is able to reveal that number over the phone.
Fate-Can: This effect is a completely clean HANDS OFF ACAAN with a kicker ending that is just genius!
Data Spaced: In this volume, one of the contributors is the one and only Paul Brook. Data Spaced is an unbelievable 3 phase mind reading routine with a personal touch that the participant will never forget.
Numbers Up: This is a contribution by Ben Cardall. Numbers Up is a demonstration of insane memory skills.
61 pages, instant download
VOLUME 7: PSYCHOLOGICAL FORCES
The 7th Volume of Mentalism Masterclass is here! So far Vol 1. Psychological Card Forces was the most successful eBook of the series. Based on that Peter Turner decided to dedicate one more volume to psychological forces. In this volume Peter teach you how to force ANYTHING! Volume 7 covers how to force places, numbers, countries, names, even imaginary dice throw outcomes and many more.
In this volume, there are many contributions. You will learn routines from Morgan Stebler, Pablo Amira, Sean Waters, Art Vanderlay and Rus Andrews. Peter Turner gives additional commentary for all the routines.
This eBook is 80 pages and contains the following:
– Piggybacking Principle
– Forcing Places/Countries
– The Pause and Restrict Principle
– Creating Psychological Forces
– Invisible Dice Force
– Psychological Force on a Name
– The Wash Principle
– The Increment Force
– The Nando's Principle
– Outs for Psychological Forces
– Utilizing Mathematical Means to Create Psychological Forces
– Lead and Pace
But it does not end here! This eBook contains many routines utilizing the principles that are taught.
Routines included:
– Surreal Book by Pablo Amira
– The Wonderland Principle by Mirjin Al Hajri
– Red Triangle by Seamus Maguire
– Sticky by Morgan Stebler
– Psychological Force by Rus Andrews
– Celebrity Deathmatch by Jose Prager
– Corridor by Sean Waters
– The Memory of Trees by Art Vanderlay
VOLUME 8: CHARACTER BUILDING AND STORYTELLING
This is the 8th Volume of Peter Turner's Mentalism Master Class and one of the most interesting. This volume is about character building and storytelling. From one of the world's top mentalist this is probably one of the most valuable eBooks of information you can learn!
In this volume Peter Turner talks about the following topics:
– Why is Finding Your Character so Important?
– Do You Have to Tell Stories in Your Act?
– How to Construct a Story
– Philip Larkin's Rule of Thirds
– Do People Believe it?
– What Makes Someone Fake?
– Being Believable
– PDE vs. MDE
– The Fortune Cookie
– Little Metaphorical Moments
– Beautiful Symphony
– The Approach
– The Shakes
This is a 49-page PDF instant download with some of the most (if not the most) valuable information on this topic. It's highly recommended for everybody who wants to be a better performer and a believable character as a mentalist.
VOLUME 9: STAR SIGN DIVINATION
This is Volume 9 of Peter Turner's Mentalism Masterclass and this volume is about star sign divination.
Peter Turner teaches you different methods to do the cleanest Star Sign Divination that you can imagine. The teaching is crystal clear no stones left unturned. In this eBook, you will find methods, routines and everything that you need to perform the strongest zodiac routines.
127-page PDF instant download
The content:
– Monkeying Around – Zodiac Anagram
– Additional Thoughts – Elliot Watson, Alan Nu, Robert Watkins
– The Bob Principle – Hearting Stars
– Additional Ideas – Mark Chandaue
– Liar, Liar
– Truth Teller
– Additional Idea – Colin McLeod
– A Simple Divination
– Truly Invisibly Visible (THIS IS THE HOLY GRAIL!!! You will love this one so much!)
– Truly Invisibly Visible 2
– Be Controversial – Think Backwards
– Eye to Eye Star-Sign Revelation
– The Frame
– Nod to Star Sign
– Mark Chandaue Additional Idea
– Derren's Repeat it in Your Mind Principle
– The Wash Principle
– Passing Star
– Mixing Principles
– Paul Voodini – A Happy Birthday
– A Little Poem – Stephen Young
– Zodiattack – Alain Nu
– Dominic Daly – Simple and Elegant
– Zodiac Wheel – Pablo Amira
– The Zodiac Divination – Andreas Sebring
– NLP Meta Programs
– NLP and MBTI
– The VCR Zodiac Sign Test – Dale A. Hildebrandt
– BIRTHDATED – Dale A. Hildebrandt
– Purloined Letters – Pat Schlagel
– Stolen Stars – Luca Volpe
– Seeing Signs – Fraser Parker with Additional Subtleties from Peter Turner
– TWO WAY Verbal Reductive OUT from Peter Turner
– Zodiac – Christian Chelman
– Zodiac Plus – Additional Idea Christian Chelman
VOLUME 10: OBSERVATIONAL MENTALISM
This is the 10th Volume of Peter Turner's Mentalism Masterclass.
Join Peter Turner in an exploration of Observational Mentalism.
If you like mentalism that is simple and uses less known psychological techniques, this is for you!
Observe, watch carefully for subtle cues, and read minds like no other.
Open your eyes, open your mind, and get this eBook filled with new applications and effects that look incredible and at the same time, credible Mentalism.
Not just ideas and routines from Peter, but also contributions from Fraser Parker, Ben Cardall, Kenton Knepper and more!
131 pages of content, waiting you for you!
VOLUME 11: HYPNO-EFFECTS
**This book teaches the illusion of hypnosis; you DON'T NEED to be a hypnotist to perform these mind-blowing effects.**
Hypnosis is one of the purest and most realistic forms of mentalism; in essence, you are apparently a true master of mind control, with the ability to make anyone do anything you wish.
With great power comes great responsibility.
From mentalism effects with a hypnosis flavor, to self-working hypnosis-esque miracles, it's all in here. If you have followed the rest of the monthly course volumes, you'll know that each month is packed with effects, routines, principles and ideas from a range of perspectives.
This month, there are contributions from Anthony Jacquin, Andrew Gerard, James Brown, Robert Watkins, Fraser Parker, Brandon Queen and more!
This is another epic contribution to mentalism from Peter Turner, and is not to be missed!
eBook 175 Pages
VOLUME 12: PROPLESS MENTALISM
This is the 12th Volume of Peter Turner's Mentalism Masterclass.
The master of Propless Mentalism, Peter Turner now offers a full series in this topic.
The definition of Propless Mentalism is, at best, arguable (this is discussed in length inside this volume). The definition that Peter has stuck closely to is: the participant never writes anything down, and the only time the mentalist writes anything is to reveal information.
Peter has tried to make the material as sure-fire as possible (not chancy or bold), whilst keeping the process as small as possible – no long-winded, drawn-out presentations. If the presentation isn't as quick as (if not faster than) utilizing traditional methodology, it isn't in this volume! Peter has tipped some of his most private mentalism routines that can be done over the phone and via Skype. Anyone who has read the past volumes knows that he puts a lot into them to ensure they are as in-depth as possible.
Peter even tipped his close-up Q+a! Even if Prop-less mentalism isn't your thing, you'll be pleasantly surprised with this volume, and it might change your opinions.
With contributions from Fraser Parker, Pablo Amira, Thaddius Barker and more!
ebook 82 pages