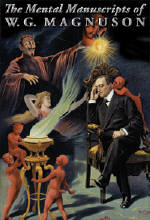 The following item is not sold or distributed by the Marketplace of the Mind. It is available only through the link below ("Link to Site").
THE MENTAL MANUSCRIPTS OF W.G. MAGNUSON
$30.00

The Blurb
The Mental Manuscripts of W. G. Magnuson
Featuring his great book Twentieth-Century Mindreading
Over 200 pages of rare mental methods
More than 125 effects
Mindreading, divination, readings, spirit effects, and more
Magnuson's book Twentieth Century Mind Reading
Reproductions of Magnuson's gimmicks
Biography of the colorful Rev. W. G. Magnuson
Magnuson memorabilia and articles
Convenient PDF format on disk
The enigmatic W. G. Magnuson published some of the most direct, bold methods in twentieth century mindreading. His classic Twentieth Century Mind Reading contains insights and techniques still vibrant for today's audiences.
But most of Magnuson's material appeared in the form of the hand-typed instructions he painstakingly wrote and marketed from his home in Rockford, Illinois. Our CD collection
brings you over 125 of these rare manuscripts, full of eye-opening methods and effects of all kinds: mindreading, divination, cold readings, psychic stunts, spirit effects, and more…essential reading for the mentalist!
The Mental Manuscripts of W. G. Magnuson also brings you the first-ever biographical sketch of this enigmatic character who gave readings in his First Church of Research,
officiated ministry ordinations, and performed in Ripley's Believe It or Not shows.
The CD includes over 200 pages of material, including Magnuson booklets, instructions, catalogs, and memorabilia, all in convenient PDF format on CD with an index included for easy access.