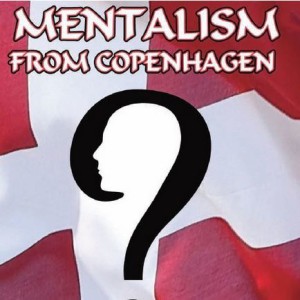 The following item is not sold or distributed by the Marketplace of the Mind. It is available only through the link below ("Link to Site").
MENTALISM FROM COPENHAGEN
$95

The Blurb
If you are not familiar with Dennis, do not let this deter you. Dennis is a very well studied, and honed performer. In his own words: "There are 19 effects in the book! (197 pages) Every effect in this book has been performed many times in real situations, except one! Using classic principles is why they work. I have learned from the best, Bob Cassidy, Richard Osterlind and Banachek. Their work inspired my life and set a blueprint for my years in this wonderful world of Mentalism." – Dennis Hermanzo.
Everything in this book is based on classic principles!
No Effects Rely on Pre-Show Work!
No Effects Rely on Electronics!
No Effects Rely on Stooges!
Clean, Crisp, Classic Mentalism – the type used by real workers who make their living and reputations due to the fact they know when you are on the front line you need sure-fire consistency.
Table of Contents:
Mind Control
Force Thoughts
Blind Words
What Women Want (if Dennis has figured this out, it's worth 1,000 times the price of the book)!
Something In Common
One Rose and One Heart
I Got Your Number
What's UP?
Diary Book Test (Dennis's presentation)
In Flames
492
Add A Vampires Number
Equivoqueouts
The Sixth Sense
Read The News
Spray It
The Bowl
Paper Money
Save The Date
What IF?
Afterword
Acknowledgements
Testimonials:
"Mr. Dennis Hermanzo's book really surprised me. I was very happy to see his use of traditional methods in very straight-forward effects that are really worth doing! Dennis explains each routine in nice and direct terms using only the minimal amount of suggested patter sot hat you can get straight to it and learn the material! As a person who has performed most of my life, I like to think I can recognize good work – this is "good work!" You won't go wrong with this book. It is packed with good usable stage mentalism."
– Richard Osterlind.
"Dennis has done an excellent job selecting some of the best mentalism. Even better he serves them up in an easy digestible manner allowing one to go from reading to performance in record time."
– Neal Scryer
"Very practical effects that I loved. A nice change to find a book filled with real world routines rather than pipe dreams."
– Paul Romhany
"I like your approach, nice and direct. This book is the proof that classics can be absolutely modern if used in the right way."
Luca Volpe
"Dennis Hermanzo has for years been a secret treasure in Denmark. Direct, not complicated, entertaining mentalism-Scandinavian style"
– Steen Pegani
The power of the effects lies in the presentations. Simple but POWERFUL!
The "Jheff's Judgment" column below is a brief summary of a longer, more detailed version. For the longer and more in-depth version, and to get news and information about other mentalism products, please visit the Marketplace of the Mind Forum or subscribe to the free newsletter.