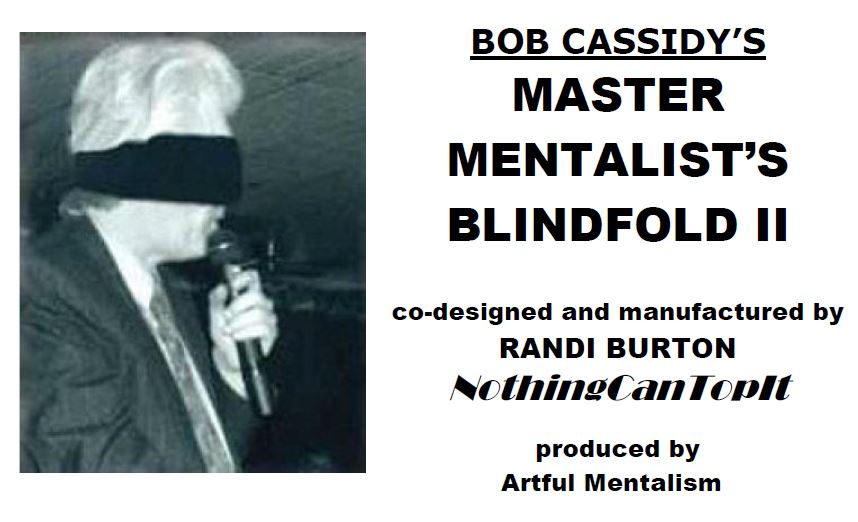 PLEASE NOTE: At this time, these are out of stock. Please check with me about availability and when this item should be available again. Otherwise, please be advised that all orders may well take more than 30 days to deliver.


Featured Recommended Product
MASTER MENTALIST'S BLINDFOLD II
$49.97

The Blurb
After a long absence, the MASTER MINDREADER'S BLINDFOLD is
back! Master seamstress Randi Burton (NothingCanTopIt) and
master mindreader Bob Cassidy have teamed up to bring you
the MASTER MINDREADERS' BLINDFOLD II.  This is a gimmicked
blindfold, which is made of black cloth, and designed to be
used by working mentalists.  The working is simplicity
itself.  Like most good blindfolds this one can be tried on
first by a participant to verify that it is completely
opaque, yet the mindreader can then demonstrate sightless
vision with uncanny accuracy.  It features a
"straight-ahead" vision.
For those who have the original blindfold, the methodology
of this blindfold is exactly the same as the original (which
was manufactured by Bob's late wife, Peggy) and the
instructions have been slightly updated to account for the
new design along with including a bonus routine. What's
different is that the blindfold now uses a combination of
velcro and felt.  This allows the blindfold to be securely
fastened to any size head, but when the blindfold is removed
it doesn't make that telltale ripping sound that velcro is
well-known for.  Also, the gimmick is placed a bit
differently for convenience.
Included with the instructions as a bonus is Bob Cassidy's
stunning and acclaimed Russian Roulette routine.  It has
appeared elsewhere and is included because it is an
excellent example of the use of the blindfold.  Though this
is dangerous because it does use real guns, the methodology
is totally safe and relies more on the method than the
weapon.  One can also substitute objects that are safer as
the method does not rely on the guns at all.
IMPORTANT: Please note that the CASSIDY BLINDFOLD II is
hand-made and demand may exceed supply because of Randi
Burton's time. So, there may be a wait, but since this is
produced by Artful Mentalism (Tony Blake and Jheff), we will
guarantee you will get them as soon as they are ready!
Please check with me to find out availability before
ordering as these may not be in stock at this time.