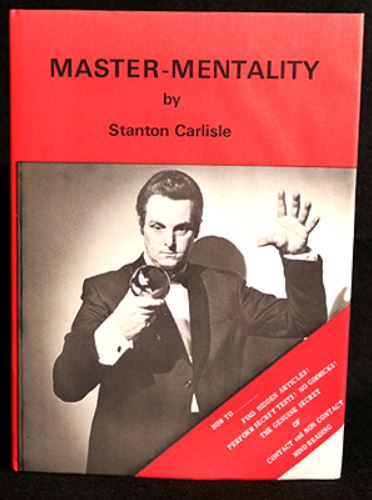 This rare title is part of a newly discovered stash of magic and mentalism books from the U.K. Most of these books are out of print and hard to find. Some are extremely valuable. All are available on a limited basis. Once they are gone, they are gone.

Because these are older titles and may be sold out by the time you read this, I will not be providing comments about them on this site. However, I will put my comments on the forum as I get around to perusing each title that pertains to mentalism.

Once again, if you're interested in this title, get it now at these low prices or it may be too late.
MASTER-MENTALITY
$29.95

The Blurb
Master-Mentality is one of the most important books written on the subject of Contact Mind Reading. Stanton Carlisle demonstrates how to perform Contact Mind Reading convincingly and without the difficulties normally associated with this art form. Carlisle shares all his personal secrets, methods, techniques, and insights on how to master the art of Contact Mind Reading! Very limited quantities remaining.
The "Jheff's Judgment" column below is a brief summary of a longer, more detailed version. For the longer and more in-depth version, and to get news and information about other mentalism products, please visit the Marketplace of the Mind Forum or subscribe to the free newsletter.