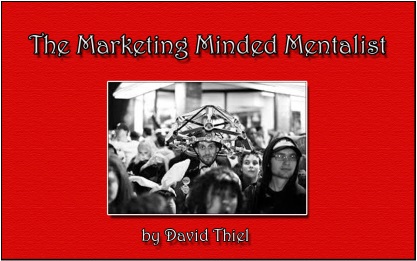 The following item is not sold or distributed by the Marketplace of the Mind. It is available only through the link below ("Link to Site").
THE MARKETING MINDED MENTALIST
$35

The Blurb
Interested in knowing more about how to make a living marketing mentalism?
This business-minded eBook explains:
•How to make the transition from marketing magic to selling mentalism
•How to find clients, what to say when you DO find them
•How to build a client list…and how to keep track of them
•Contracts, Invoicing and Riders — and how they impact YOUR show
•How to create marketing materials that SELL your act
•What to think about when you're designing your website
•How to ease your MAGIC clients into buying your Mentalism show
•How to handle a face-to-face appointment with a client
•Sales strategies that WORK
•How to stay motivated
•How to teach clients what mentalism IS and how YOU fit into their plans
•Goal setting for the professional entertainer
You'll get the benefit of 20 years of self-sales experience from a magician. But you'll also get great first hand advice on how to transition your career from magician to mentalist from someone who's been there and made the successful transition himself.
Some of this material was first presented as David Thiel lectured at the premiere gathering of mentalists at MindVention in Las Vegas. If you were there, you know how practical this information is in the real world. But there's MUCH in this book for the pro, the semi – pro — or even the performer who is thinking about marketing his skills for the first time.
The Marketing Minded Mentalist is written in David's engaging style, easy to understand — the kind of information that will help you revolutionize your career. You'll see samples of the contracts, invoices and other documents he uses in his day to day business and work-in-the-real-world advice on how to use them.
"I had the pleasure of seeing David Thiel present his workshop "The Marketing Minded Mentalist" at MindVention. I was also privy to getting one of the very first copies of his book. Let me just say this – If I had this material 40 years ago I would have made many thousands of dollars! Everything David states in the book is right on. If you get this material, and apply it, you WILL succeed. There is nothing else I can say!"
Richard Osterlind, Corporate Mentalist
The "Jheff's Judgment" column below is a brief summary of a longer, more detailed version. For the longer and more in-depth version, and to get news and information about other mentalism products, please visit the Marketplace of the Mind Forum or subscribe to the free newsletter.