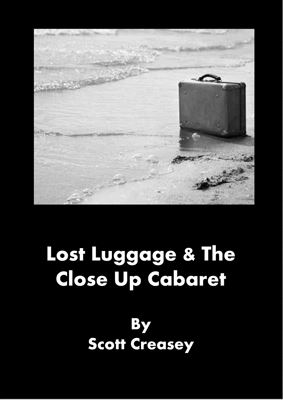 LOST LUGGAGE
$17.95

The Blurb
What do you do when the luggage containing your props goes to Murcia as you arrive for an important show in Madrid?
How would you cope if you arrived at a venue and the client, who booked you for a close up strolling performance, suddenly changed his mind and asked you to perform a full stand-up/cabaret set?
Learn how seven years of performances for unforgiving holiday makers on the Spanish Costa del Sol club circuit have shaped Scott's mentalism performances to ensure all his routines are interactive, fast paced and personal, and can be performed in almost any environment. In this brand new set of notes produced to support his recent "Lost Luggage and the Close Up Cabaret" lecture tour, Scott explains and dissects his "Act in a Paper Bag", a full stand-up/cabaret/close up act, the props for which can be purchased for a few pounds on any high street.
The contents include:
Playing Cards In Mentalism
Non-Verbal Communication
Blindsight
The Intuitive Incentive Prediction
And bonus routines
Pages: 36 – 8.25″ x 11.7″ – PDF FORMAT
The "Jheff's Judgment" column below is a brief summary of a longer, more detailed version. For the longer and more in-depth version, and to get news and information about other mentalism products, please visit the Marketplace of the Mind Forum or subscribe to the free newsletter.