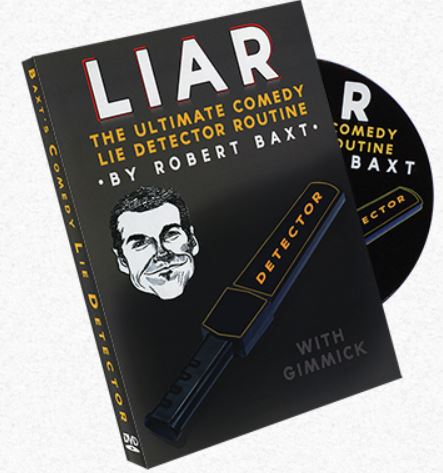 LIAR
$49.95
This is a non-featured item. For more information, please visit the Marketplace of the Mind Forum, a subscription-based site that contains more detailed reviews, news, and other information about mentalism and mentalism products.

The Blurb
The lie detector is a classic comedy premise that can now be done by anyone, singlehandedly, with a supplied gimmick that's extra loud for extra laughs!
Robert Baxt shows on this DVD how to easily and inexpensively make this gimmick into a security metal detector looking prop, along with examples of other props you can readily create.
Included:
Performance Footage
Bonus PDF File with 23 pages of Jokes, Gags, Bits, Lines, Routines, and Suggestions for this wonderful device
Funny gags that you can add to any show!
Comedy for STAGE or CLOSE-UP!
The "Jheff's Judgment" column below is a brief summary of a longer, more detailed version. For the longer and more in-depth version, and to get news and information about other mentalism products, please visit the Marketplace of the Mind Forum or subscribe to the free newsletter.