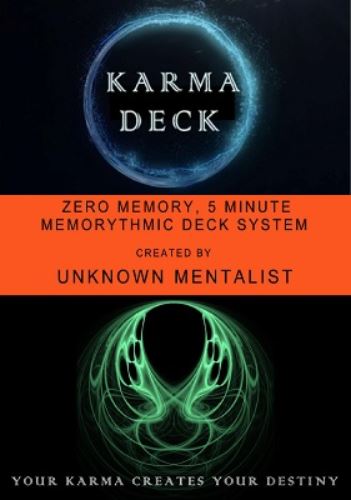 The following item is not sold or distributed by the Marketplace of the Mind. It is available only through the link below ("Link to Site").
KARMA DECK
$12
This is a non-featured item. For more information, please visit the Marketplace of the Mind Forum, a subscription-based site that contains more detailed reviews, news, and other information about mentalism and mentalism products.

The Blurb
Karma Deck is a zero memory, 5 minute memorythmic deck system. This is based on a very clever and innovative principle which is not known to have been used before. This is the optimal combination of a stacked deck, a memorized deck and an algorithmic deck. With minimal effort, even a beginner can master this in no time at all. Almost all the effects existing for a stacked, memorized or algorithmic decks can be performed with this, and far more easily.
Karma Deck is now expanded to six unique variations and included is a novel method of using CHaSeD in a random suit pattern. Deckcelence is available in combination with Karma Deck for half price.
With an introduction by Richard Osterlind:
"The new "KARMA DECK" is something I find very intriguing! Without having to memorize a single thing, the author has come up with a clever idea that will allow you to know the position in the deck of any card named or to know the name of a card at any position in the deck! As you read on you will see there is a stack, but there is absolutely zero memory involved in working it!"
Highlights:
Karma Deck is a game changer. 100% intuitive with zero memory work.
If a 12 year old can learn Karma Deck in just 6 minutes, you can definitely learn in 5.
Karma Deck can be used as a stacked deck, memorized deck or an algorithmic deck.
Karma Deck is based on a very innovative and clever principle (probably the world's first)
Given a position you can know the card. Given a card you can know its position.
Given a card you can know what card is before it as well as after it. Also, how many cards are above it and below it in the deck.
With Karma Deck, if you cut the deck you can know how many cards are in each pile. And also what cards are in each pile.
If you distribute Karma Deck to 52 people you can know who has what card for everybody.
Karma Deck works with any suit order of your choice like CHaSeD, SHoCkeD, DuCHeS etc etc.
Karma Deck system allows you to do amazing routines even without a deck of cards.
Almost all existing routines of any stacked or memorized or algorithmic decks can be done with Karma Deck. And much more easily.
1st edition 2015, 4th edition 41 pages.
word count: 6484 which is equivalent to 25 standard pages of text
The experts say …
"This is a fantastic idea. It's simple, elegant and practical. At last an age old problem has been solved and we now have a real world alternative to actually memorising 52 cards. Excellent!"
– Marc Paul
"The Karma Deck is an ingeniously simple memorized deck system. It is a powerful tool that every magician and mentalist should have in their armory. It is to a magician, what a hammer is to a carpenter. Highly recommended"
– Charles Gauci
"This is an amazing system. I like it a lot"
– Doc Eason
The "Jheff's Judgment" column below is a brief summary of a longer, more detailed version. For the longer and more in-depth version, and to get news and information about other mentalism products, please visit the Marketplace of the Mind Forum or subscribe to the free newsletter.