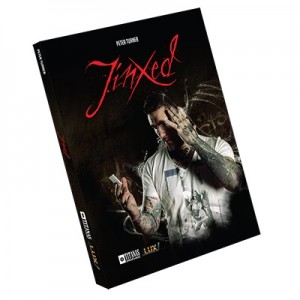 The Blurb
Without question, one of the most important and greatly awaited releases in mentalism is finally here.
Say the name Peter Turner amongst a group of mentalists or mind readers, and every conversation stops right there. You get everyone's attention right away. Why is that?
Peter Turner has carved a name for himself within the magic community as not only a unique performer, but a devilish thinker.
Peter has a definite way with words. If you want your performances to become legendary stories retold between laymen, and to be remembered forever, then listen to everything this man has to say. Regarded as one of the most influential mentalists of our time, he has consulted on countless projects for TV and stage.
LIMITED AVAILABILITY
This new DVD set is Peter Turner's latest and most practical work to be presented to the magic community. As with much of his material, it's not intended to be owned by everyone.
It's restricted to just 700 copies! Once they are snatched up, that's it!
If you have ever tried to get hold of material by Peter Turner, you'll know how his training material sells out in record time only to become highly collectable, as mentalists fight over getting access to the rare copies that change hands from time to time.
How do you define genius thinking in magic? It's the ability to hold all the current thought in a field of study, then step right out of it to create new techniques or approaches that have such a large creative leap, that they can change the direction of thinking in that field. Peter Turner embodies this ability. His methods are creative and bold and his performances are faultless. He truly gives an experience that will stay with them forever.
Jinxed is Peter's contemporary take on Annemann's core work in mentalism. If you are serious about developing your abilities in mentalism, now's your chance to add Peter Turners knowledge to your collection.
Q&A
Is this material practical in the real world?
Yes, that's part of the reason Peter Turner is so well respected. He doesn't just talk the talk. You will see his material in action, how he presents it and how you can too.
Will I have to learn his full routines to gain from this training?
No. We think that you probably will want to, but that's not the point. Jinxed is full of practical techniques that you can build into your current material, if you don't want to add in full routines. If you have ever been lucky enough to see Peter lecture, you will know how excited mentalists get, after the lecture, as they discuss how easy it would be to build in his techniques to their current material.
Is this hard to master?
Like anything that's really worth learning, you will need to practice. However, Peter's style is organic and conversational.
Jinxed is about connecting with people, just as much as it is about mechanical secret technique. Peter's style makes learning and performing feel natural and effortless.
If you are new to mentalism, it's a great way to develop your performing style, that will influence and improve your learning across all your future training.
Click here to see the promo video of JINXED!
The "Jheff's Judgment" column below is a brief summary of a longer, more detailed version. For the longer and more in-depth version, and to get news and information about other mentalism products, please visit the Marketplace of the Mind Forum or subscribe to the free newsletter.