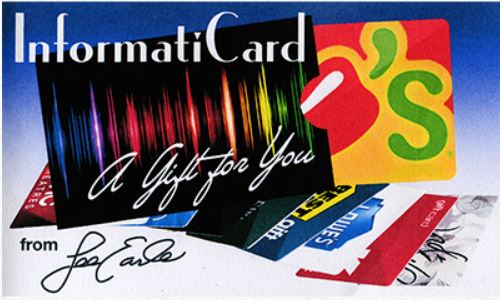 INFORMATICARD
$49.50
This is a non-featured item. For more information, please visit the Marketplace of the Mind Forum, a subscription-based site that contains more detailed reviews, news, and other information about mentalism and mentalism products.

The Blurb
Incredibly Easy Mindreading – Close-Up, Platform, or stage.
InformatiCard works with your own gift cards, loyalty cards, frequent shopper cards, discount cards, slot cards, and even hotel key cards!
Customize with cards from local merchants and stores for a unique, personal touch.
InformatiCard puts their thoughts right at your fingertips, at the perfect moment, using a killer technique (hat tip to Ted Lesley) that employs no awkward peeks, trick envelopes, chemicals, impression devices or suspicious moves.
Clean at the start; Clean at the end.
Reset is quick and done right in the open – ideal for table hopping.
Included:
Comes with TWO versions of "Something Special"
Perfect Pen for safely writing on cards
A pair of Gift Card presentation sleeves
Detailed Instructions
From the back cover:
Gift cards have become ubiquitous and they're everywhere.  You can't walk through Walmart, a Walgreens, or a Walt Disney store without noticing them; they're located in high-traffic, can't-miss areas. Loyalty cards from restaurants, sandwich shops, and department stores all provide a compelling media wall of color and design, each vying for your attention.
In performance, the Mentalist spreads more than a dozen of these plastic cards from hand to hand, displaying boring backs and colorful, eye-catching faces, before asking a participant to take one to write upon – along with a card size presentation sleeve and a felt-tip marking pen.
She thinks of a make-believe friend who might thoughtfully send her a gift card. She also establishes the imaginary gift card's value, which country's currency to use, and that secret admirer's first name which she will record onto the face of the card she holds – unseen by anyone else – and safely tuck inside at the opaque (and ungimmicked) gift card sleeve.
She randomly selects another gift card – unknown to her because it's face down which goes into a secondary sleeve. After a quick, private look through all the remaining cards, she concentrates on the colors she's just seen while the Mentalist "tests her subconscious image retention" and percieves there is one color that doesn't reside in her memory (for example); the color of the Chili's restaurants card.  The card is pulled from the sleeve and shown for confirmation.
With no hesitation the performer pacifically states which of the world currencies his participant freely thought of, the gift card's value in that currency, and the name of her imaginary special person, with 100% accuracy!
No switches, no secret flaps, no impressions, instantly recognized props, and a believable promise. InformatiCard works with your own real gift cards, as well as free loyalty cards, discount cards, frequent shopper cards, slot cards, and even hotel key cards!
Everything is quickly reset making table hopping an achievable reality.
The description above is 'bare bones'; Lee Earle's routine has an abundance of clever subtleties, psychological disconnects, 'sells,' and performance hints that will delight your evil heart.
Impressive impact and unbelievable simplicity make for a winning combination. The clever method puts what you need to know where you can easily get to it when you need to see it, close-up, stand-up, or stage. You'll get two very special additions for your own set of gift cards and two custom manufactured sleeves, plus the perfect marking pen and extensive instructions.
The "Jheff's Judgment" column below is a brief summary of a longer, more detailed version. For the longer and more in-depth version, and to get news and information about other mentalism products, please visit the Marketplace of the Mind Forum or subscribe to the free newsletter.