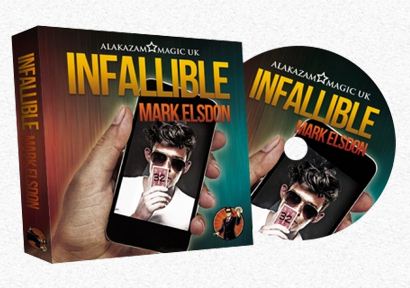 INFALLIBLE
$49.75
This is a non-featured item. For more information, please visit the Marketplace of the Mind Forum, a subscription-based site that contains more detailed reviews, news, and other information about mentalism and mentalism products.

The Blurb
Mark Elsdon has created one of the finest card and number prediction effects we have ever seen! Not only is Infallible a real world worker and self-working, it's also instantly repeatable!
Mark has added the idea of a fantastic video revelation that you text to you spectator and its left on their phone as a memento of the incredible feat!
For those of you who prefer the more traditional style of prediction, you can have a prediction in an envelope, written on the back of your business card or even sent to them in advance!
Infallible is a sure fire winner and an effect you can and will perform in every situation. Totally self-working and incredibly practical.
Comes with Special Infallible Deck & A full instructional DVD.
The "Jheff's Judgment" column below is a brief summary of a longer, more detailed version. For the longer and more in-depth version, and to get news and information about other mentalism products, please visit the Marketplace of the Mind Forum or subscribe to the free newsletter.