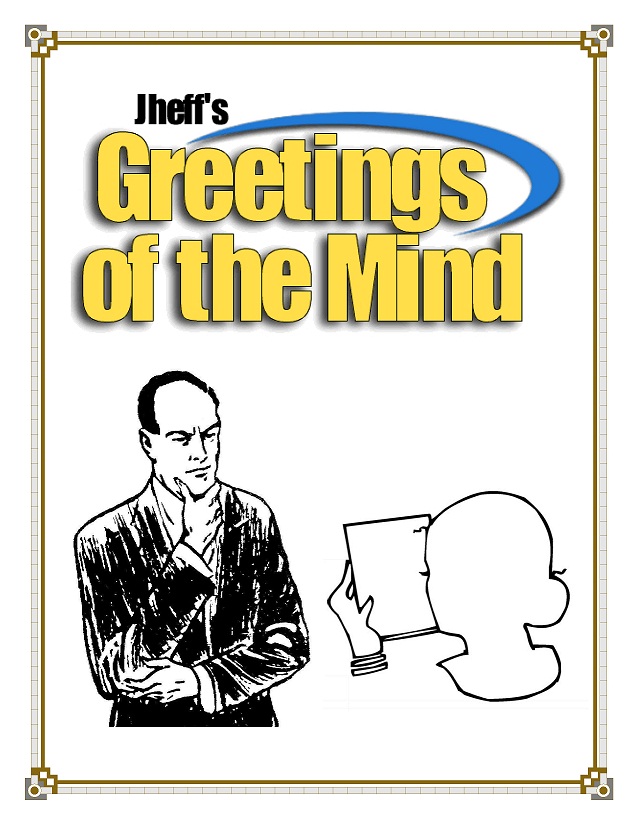 Featured Recommended Product
GREETINGS OF THE MIND
$29.97

The Blurb
In 2004, Jheff released a very unique and highly regarded utility prop for mentalists. Unfortunately, due to the expense involved in printing up these unique, yet totally ungimmicked, greeting cards, the price was a bit high for many. It retailed for $124.95.
But now Jheff has slashed a full $100 off the price and released a downloadable PDF that includes the instructions and all the PDF files for the greeting cards so that you can easily print a set yourself on your home color printer (or from your local copy store) for much less than it would be to buy a printed set from Jheff.
Imagine handing your participant a set of two dozen greeting cards with full-color inspirational photos on the cover and inspirational messages inside. They have a free choice of any card.  Immediately the performer describes the photo on the card.
BUT THAT'S NOT ALL!  The participant can hand the entire stack to  another person who can grab any greeting card they like, open it up, and freely select a word from inside the card.  Yep, the performer can then reveal the word!
BUT THAT'S NOT ALL!  A third participant thinks of a single number in the greeting card's product code and the mentalist can instantly reveal it!
YES, THAT'S NOT ALL!  Every greeting card has a barcode on it.  A third participant can grab the stack, take any card and focus on the bar code.  The performer can then dramatically reveal the numbers of the 10-digit barcode one at a time!
This four-phase, mind-boggling routine that will leave your audience awe-struck is included, but the possibilities are endless for what you can do with the more than two dozen different cards in this set!
THE LIMITED EDITION FEATURES THE FOLLOWING BONUS ROUTINES:
"FOILED GREETINGS"
A ROUTINE BY CHUCK HICKOK
This professional routine uses Greetings of the Mind in a very unique and different way! Three participants freely cut off a stack of the greeting cards and wrap each in aluminum foil. In an impressive demonstration of the performer's ability to detect colors and shapes without the sense of sight and touch, the performer is able to instantly describe the photographs on the face of each stack!
"BAGGED INSPIRATION"
A ROUTINE BY JHEFF
The cards are placed in a paper bag and passed out among the audience. Three participants each take a card and remember the cover photo. A fourth participant takes the rest of the cards and shuffles the three selections into the stack and puts them back into the bag. The performer now takes the cards out and dramatically reveals each of the chosen selections!
"Very clever…and very innocent looking. These greeting cards look so normal, but allow you to present a strong, multi-phase demonstration that will fool people badly."
Chuck Hickok, author of Mentalism, Inc.
"Wow! This is a great looking prop that makes so-o-o much sense. Brilliant!"
Dan Harlan
"GREETINGS OF THE MIND is a great new utility item that uses props that are common appearing from other mentalism routines. Jheff has combined a number of proven principles into this kit that can make it a feature number in your act. As with [Jheff's] ULTIMENTAL, I recommend it highly!"
Richard Osterlind