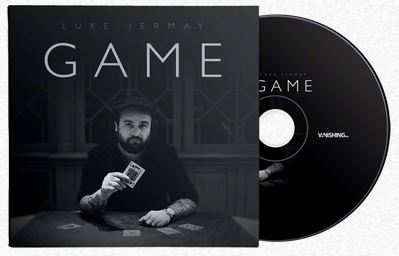 GAME
$29.99
This is a non-featured item. For more information, please visit the Marketplace of the Mind Forum, a subscription-based site that contains more detailed reviews, news, and other information about mentalism and mentalism products.

The Blurb
Roberto Giobbi, Michael Weber, R Paul Wilson, Daniel Madison, John Archer, Asi Wind have all played Jermay's "GAME" and now it's your turn … "GAME" is Jermay's professional handling of Dai Vernon's classic "Trick That Cannot Be Explained" that brings this previously opaque, challenging, and difficult concept to the hands of even the novice.
Full details of performances with your deck, a borrowed pack and alternative handlings are covered in this DVD. A shuffled deck. An impossible prediction. With "GAME" the rules have changed.
"Luke Jermay is as devious as he's clever, and he's a Master at complication – with this take on TTTCBE he might just fool the Devil…"
– Roberto Giobbi
"Intelligent magicians will want to read and learn everything Luke Jermay is willing to share, and the really intelligent ones don't have to be told."
– Michael Weber
"Jermay's GAME is the real deal: deceptive, practical AND impossible."
– R. Paul Wilson
The "Jheff's Judgment" column below is a brief summary of a longer, more detailed version. For the longer and more in-depth version, and to get news and information about other mentalism products, please visit the Marketplace of the Mind Forum or subscribe to the free newsletter.