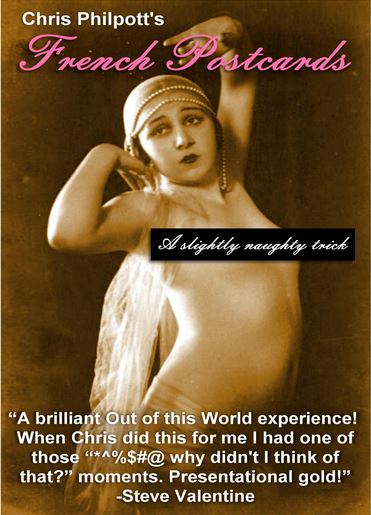 FRENCH POSTCARDS
$24.95

The Blurb
A study out of Cornell University recently made headlines: subjects could predict if a picture was going to appear on the left or right side of a computer screen but only when they used erotic pictures!
To test the theory, you show 12 postcards from various destinations and 12 French postcards (these are vintage nudes — elegant, sepia-toned, upper-body nudity). The cards are mixed; then, without looking, a spectator sorts them by sensing if a card has sexual energy or not. The results are perfect!
The effect includes 24 custom-made postcards, written instructions and links to video instructions, updates, extra effects and a bonus comedy script by professional comic and magician, Bruce Gold. Also includes Jon Armstrong's "Out of this Blah Blah Blah," the cleanest OOTW handling ever!
"Finally, a reason to do Out of this World, that holds attention from start to finish. With French Postcards, they'll never forget you!"
-Steve Valentine
The "Jheff's Judgment" column below is a brief summary of a longer, more detailed version. For the longer and more in-depth version, and to get news and information about other mentalism products, please visit the Marketplace of the Mind Forum or subscribe to the free newsletter.