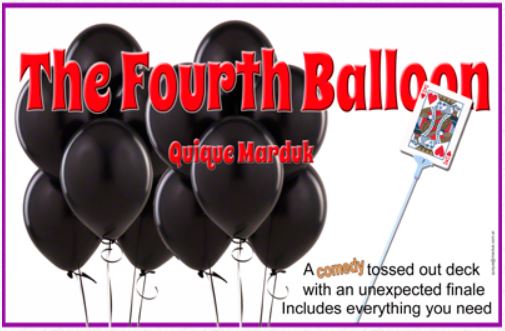 THE FOURTH BALLOON
$68
(List Price: $75)
This is a non-featured item. For more information, please visit the Marketplace of the Mind Forum, a subscription-based site that contains more detailed reviews, news, and other information about mentalism and mentalism products.

The Blurb
A tossed out deck routine with a sensational finale!
The magician selects 4 spectators and tosses out a deck of cards, they select one card each and go to the stage.
On stage, each one receives one black balloon and a pin.
The magician names 4 cards and ask the spectators that if anyone hears their card, please, pop his balloon.
3 of them do it, but not the last one…
When the magician cannot find out the last card, he asks the spectator to name the card and pop the balloon anyway, when they do it…and inside the balloon, on the tip of the stick, there is the selected card.
Comes complete with: a special tricked Bicycle deck of cards, 12 black balloons, 4 sticks, pins, all the necessary gimmicks and a DVD in English and Spanish with the routine and explanations.
The "Jheff's Judgment" column below is a brief summary of a longer, more detailed version. For the longer and more in-depth version, and to get news and information about other mentalism products, please visit the Marketplace of the Mind Forum or subscribe to the free newsletter.