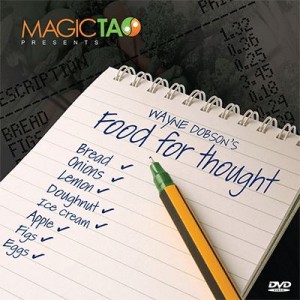 FOOD FOR THOUGHT
$36
(List Price: $40)
This is a non-featured item. For more information, please visit the Marketplace of the Mind Forum, a subscription-based site that contains more detailed reviews, news, and other information about mentalism and mentalism products.

The Blurb
You have 16 cards; each with a different food item displayed on them – this is your shopping list. The spectator mixes up the cards. The spectator then chooses one of the cards. This is done twice. You are then able to tell the spectator which two cards they have chosen without you having to look at the cards. Very impressive!
This is a great effect. You can adapt the patter to suit whatever theme, using food items, you wish. The cards are printed with a food item on one side and the receipt for all of the 16 food items on the reverse.
You can talk about how you purchased these 16 items, but had to return two items due to them being out of date, or of poor quality. The spectator chooses two items, at random, and then you reveal which two items were chosen by the spectator.
As a bonus, you can then reveal that you knew the total that was paid for these two items. As an 'kicker', that is just simply genius.
Very easy to perform.
You get:
A DVD with full explanations
16 custom cards
The "Jheff's Judgment" column below is a brief summary of a longer, more detailed version. For the longer and more in-depth version, and to get news and information about other mentalism products, please visit the Marketplace of the Mind Forum or subscribe to the free newsletter.