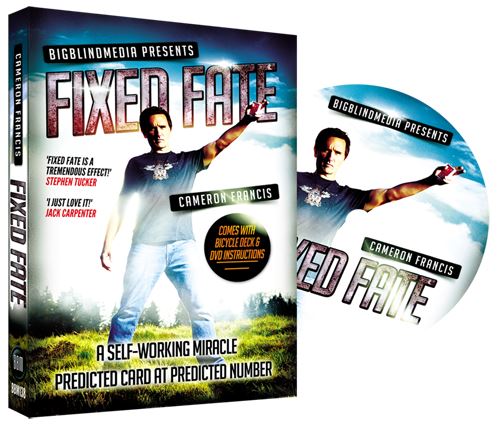 FIXED FATE
$30
This is a non-featured item. For more information, please visit the Marketplace of the Mind Forum, a subscription-based site that contains more detailed reviews, news, and other information about mentalism and mentalism products.

The Blurb
Predicted Card at PREDICTED NUMBER – a self working miracle! Comes with Bicycle Deck!
The magician hands a blue-backed deck to a spectator, who is then asked to name a random number – let's say they say, 15.
The spectator is asked to turn the deck face up and slowly deal down 15 cards. Every card is clearly different and the spectator stops at the 15th card. Let's say it is the Ten Of Clubs.
The magician reiterates just how fair this was. The spectator chose a random number. The spectator dealt down to THAT number themselves and ended on a card. Both the chosen number and the chosen card were freely arrived at.
The magician shows that, had a different number been named, a different card would have been selected. So that makes it all the more impossible when the Ten Of Clubs is flipped over to reveal that it has a RED BACK! It's the only card from a different deck. However that isn't the biggest shock… that would be the huge number 15 written across the back of the card!
Self-working
No sleight of hand
Can be a different card and number every time
No gaffs, sticky stuff, rough & smooth, mathematics or memory work
Resets in seconds
Comes with a USPCC Bicycle Deck and full DVD instructions. Fixed Fate – you'll be blowing away your audiences in no time!
"Fixed Fate is a tremendous effect!"
– Stephen Tucker
"I just LOVE it!"
– Jack Carpenter
The "Jheff's Judgment" column below is a brief summary of a longer, more detailed version. For the longer and more in-depth version, and to get news and information about other mentalism products, please visit the Marketplace of the Mind Forum or subscribe to the free newsletter.